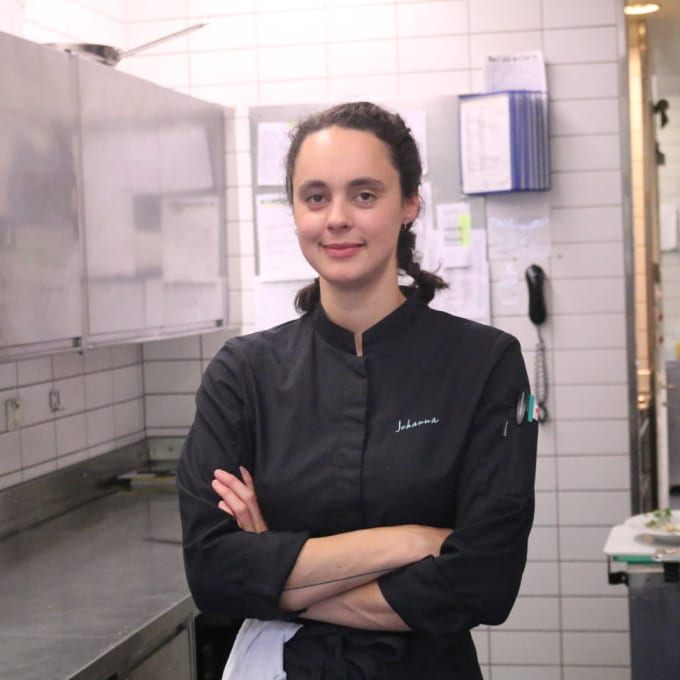 YOUNG CHEF STARTS ZERO-WASTE COOKING SCHOOL FROM HER SAILBOAT
(PRESS RELEASE) PORT-SAINT-LOUIS-DU-RHONE, France, 29-Oct-2021 — /EuropaWire/ — Apprentice Chef Jo Geisenhainer had it made. Practicing her art in a Michelin-starred Swiss restaurant after graduating top of her class, the future was looking bright for the German-born 26-year-old. Then came COVID-19. Lucky as she was to keep her job, Jo began noticing something curious. Despite the closure of restaurants around the world, a massive uptick in take-away and delivery meals during the pandemic proved one thing beyond a doubt; that many people were uncomfortable confronting their kitchens, and preparing food themselves. This came with an ugly side-effect – a measurable increase in single-use plastic containers, and ingredients in fridges and pantries going to waste.
"So many of us went through the pandemic with mountains of good food at home" says Chef Jo "and it slowly went expired as people ordered take-away."
According to the Food and Agriculture Organization of the United Nations, an estimated 30% of edible food is lost or wasted each year¹ National Geographic recently reported that plastic food containers were among the most common type of beach trash² . Chef Jo knew she wanted to tackle
the problem head-on.
"Did you know you can make excellent chips from carrot peel? Or that picked watermelon rind makes a delicious side, with only 10 minutes of prep-time and 3 ingredients? Stop throwing these things away – you've already paid for them! I think for many people, it's knowledge, inspiration and time that are missing, definitely not the right ingredients." muses Chef Jo.
To prove that anyone can make simple, waste-free meals on budget, and on time, Chef Jo decided to give herself a unique challenge: trade in her 100sq/m professional restaurant kitchen for the galley of a small sailboat.
"If I can prepare something in a 2sq/m boat kitchen, without any fancy gadgets, then I know anyone, anywhere, can too!" she exclaims.
Thanks to increasingly reliable wireless internet along the Mediterranean coast, Chef Jo plans to open a fully online Zero-Waste cooking school in January 2022, with a forum, virtual library, tutorial videos, and live weekly cooking ateliers focusing on helping people get the most out of every ingredient they buy.
Chef Jo believes that her Zero-Waste cooking techniques can empower people to help save the planet right from their own homes, in a fun, time-saving, and interactive way.
"Want to do something about deforestation in the Amazon? Don't plant a tree – cook more efficiently, and waste less resources. It's not about dieting or skipping your favorite comfort foods" she says, "it's about HOW you cook, not what you cook."
Called New Wave Cooking, the project is currently being crowdfunded at WeMakeIt. (CTA/Click on Link to Support)
https://wemakeit.com/projects/new-wave-cooking
Ever the epicurean, Chef Jo looks forward to her life on the sea. Living in her little 43-year-old sailboat allows her to cook her way around the world slowly and ecologically, discovering the riches of local tradition, ingredients, and techniques, which she plans to share with her viewers.
"At the moment, I'm preparing the boat, fixing her hull, building the kitchen…it's backbreaking work – and I'm a Chef!" she laughs. "But, with some support from the public, I'll be back in my kitchen soon."
***
Note to Editor:
For more information, and images, please visit www.newwavecooking.com or @new.wave.cooking (Instagram). All published images may be used with © New Wave Cooking watermark.
¹ https://ec.europa.eu/food/safety/food-waste_en
² https://www.nationalgeographic.com/science/article/plastic-food-packaging-outpaces-cigarette-butts-most-abundant-beach-trash
MEDIA CONTACT:
Chef Jo (Johanna) Geisenhainer
+41(0)76 329 75 64
-or-
+41(0)79 729 55 50
jo@newwavecooking.com
Logo:
SOURCE: The Scribe Lab