(PRESS RELEASE) VILNIUS, 1-Apr-2021 — /EuropaWire/ — Three days, 6000 minutes of content, 300 speakers, and over 10,000 attendees. With its unprecedented scale, the Lithuanian Business Forum will certainly feature in every best practice handbook for virtual events. The largest web conference in the country's history took place in early March and transformed a now-tired traditional online format into an unusual digital space, recreating the true feeling of a live event. Nine months of preparation, many complex technical challenges, and carefully curated content – the organisers are right to describe setting up this event as a true feat.
A 3-day interactive programme
On March 3rd-5th, the record-breaking Lithuanian Business Forum brought together experts from various fields – economists, politicians, business and management consultants – and created a unique space to share ideas and promote solutions amongst professionals. The event focused on digitalisation and the circular economy.
According to Dainius Baltrušaitis, organiser of the Lithuanian Business Forum and head of Confinn, a conference organiser company, many people have grown tired of the virtual format's omnipresence events being online-only because of the pandemic. This is why this unprecedented conference for the Nordic-Baltic region elicited a radically different reaction from the public: it attracted a lot of early interest, and its engagement remained high during the entire event.
Organisers are convinced that this success was due to the innovative format of the event. The Forum lasted 3 days and included interactive presentations, discussions and webinars.
"Last year, the event was spread out across nine halls, so it was difficult for our attendees to visit everything physically. In order to make the experience more enjoyable this year we split the programme over several days, so people could have a chance to listen to whichever speaker they wanted to see. We are delighted to hear that our attendees reported feeling as if they'd visited a new and unique space after the event. The constant interactive migration from one hall to another generated excitement and made them feel like they were attending a "real" event", said business psychologist Dainius Baltrušaitis.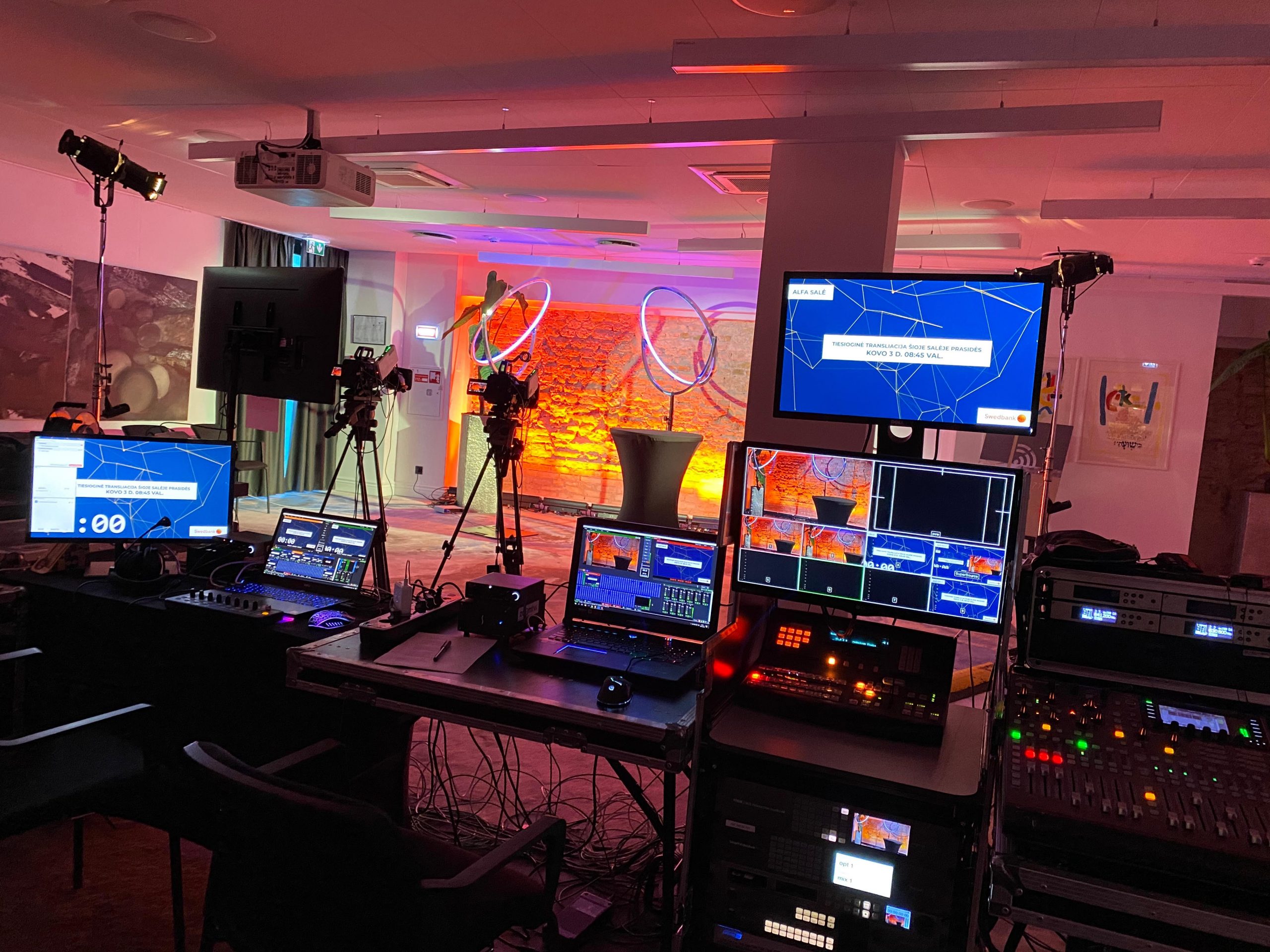 Artūras Laucius, another leader at 'Confinn', explains that the dynamic platform not only drew in people but also allowed them to consume valuable content for the next six months. "We chose this format because it gives the content a lot more depth. While people at the event are not required to listen to all the speakers, they may want to view them at a completely different time that is more convenient to them. So a one-day event of this scale, once recorded, can turn into a month-long event, and a three-day event can become a three-month event", he added.
The biggest organisational challenges
According to Artūras Laucius, an event of this scale requires very careful preparation. One of the main challenges was time and people management. In order to organise such a huge conference without any interruptions, preparations need to start no less than nine months in advance.
"It is important to have all technical solutions tested, as they cause many of the problems that organisers have to deal with. We were planning to have many attendees, and we were concerned that some of our programs would interpret so many connexions as being a cyber-attack, which would paralyse our servers. When performing "stress tests", it is necessary to slowly increase the number of users, as one thousand, five thousand or more users bring with them different technical challenges. It is important always to be one step ahead – to know exactly what ten thousand attendees will see on their screens during the event, and how it's actually going to work", he explains.
When setting up the event, content selection is another important task. According to Dainius Baltrušaitis, selecting high-quality material takes longer than one would expect, and investing in promoting your event matters when you want to attract the best moderators to your event. "We approve about 30% of speakers. In our case, with 300 speakers and 20 days of content waiting to be approved, it takes a very long time to go through discussions regarding content with everyone and select the best candidates. This is a crucial but time-consuming process. Choosing the best content and ensuring that everything goes smoothly guarantees a successful event. Long-term experience and good knowledge of the region are very important, too", he notes.
Our tip to keep viewers engaged
Virtual events are very time-sensitive, explains Dainius Baltrušaitis. While a speaker has two minutes to make an impression during a live event, they only have 30 seconds to grab the viewer's attention in a virtual format.
"If you start introducing yourself in the first minute, this means your visibility has failed, and your message is doomed. In an online format, you have as little as thirty seconds to present your point and convince the viewer to listen on. This is then followed by the main point of the speech, expert insights, and three examples. During a live event, a member of the audience would often feel uncomfortable standing up in the middle of the hall and leaving the auditorium, asking fellow audience members to make room for them as they leave. Here, in a virtual event, all it takes is one second and a click to move to another digital space if the content is not catchy enough.
"Our content professionals put a lot of effort into making the speakers shine. Sometimes a speaker contacts us and claims that there is no way for them to shorten their 40-minute presentation. We would then ask them to write everything down on a piece of paper physically. We would normally delete most of the text, reducing it from 20 pages to about 2. Our recommendation is to limit presentations to 10 minutes," he explains.
Dainius Baltrušaitis further explains that another important aspect is to have an interactive comment section, which the moderator can control. Upvoting interesting questions works as an additional encouragement for attendees to get involved.
"All conference organisers know how hard it is to get audience members to ask questions. When people are asked if they have any questions during a live event, there is usually an awkward silence. But our trick is inertia. You need to wait out that initial period and encourage the participants to get involved after 4–5 minutes when an avalanche of questions normally begins. In the virtual format, we've included interactive comment fields that initially feature a couple of questions that can be upvoted. This method is simpler than users having to take the first step themselves. Upvoting helps us engage with the audience, and it encourages them to write their own questions." says Dainius Baltrušaitis, who is pleased that technical and content-related 'know-how' gained in this region is being replicated abroad. Confinn, which used to primarily work on the largest conferences in the Nordic-Baltic region, is receiving more and more enquiries from across Europe to help organise huge virtual events with up to 100,000 people.
Media contact:
Dainius Baltrušaitis
CEO of online events company CONFINN
dainius.baltrusaitis@confinn.eu
www.confinn.eu
www.versloforumas.org
SOURCE: CONFINN