Brussels, 31-1-2013 — /europawire.eu/ — In January 2013, the Business Climate Indicator (BCI) for the euro area remained broadly unchanged at -1.09. While their assessment of current order books (overall and export) worsened, industry managers became less pessimistic in their production expectations and assessments of both past production and adequacy of stocks of finished products.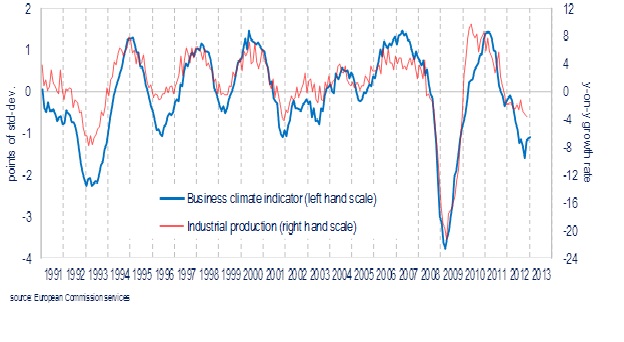 The BCI is based on a factor analysis of the euro area aggregate balances (seasonally adjusted) of five of the monthly questions in the industry survey (only employment and selling-price expectations are excluded).
The next BCI results are due to be published on 27 February 2013.
Full details of the Business Climate Indicator are available on the Europa website:
http://ec.europa.eu/economy_finance/db_indicators/surveys/index_en.htm
Scheduled publication dates
| | | |
| --- | --- | --- |
| | Flash estimate | Final release EU, euro area and Member States |
| February 2013 | 20 February 2013 | 27 February 2013 |
| March 2013 | 20 March 2013 | 27 March 2013 |
| April 2013 | 22 April 2013 | 29 April 2013 |