Transmission production at the Vrchlabí plant started in October 2012
To date, more than four million DQ200 transmissions have been produced and are used throughout the Group
Over 200 million euros have been invested in the site's ongoing modernisation so far
The Vrchlabí plant has been CO2-neutral since late 2020 and ranks among the most modern plants in the Czech Republic
(PRESS RELEASE) MLADÁ BOLESLAV/ VRCHLABÍ, 18-Oct-2022 — /EuropaWire/ — ŠKODA AUTO, one of the world's oldest car makers and Czech Republic largest private company part of Volkswagen Group, has announced a 10 year anniversary and a transmission production milestone for its plant in Vrchlabí, the Czech Republic. The transmission production site was launched at the carmaker's plant in Vrchlabí ten years ago and to date it has shipped more than four million DQ200 dual-clutch transmissions, which have been used in its own models as well as in vehicles built by other Volkswagen Group brands. The production facility is heavily relying on Industry 4.0 technologies and has been operating with net-zero CO2 emissions since the end of 2020.
Today is a very special day for the Vrchlabí plant. Since the first transmission rolled off the production line here ten years ago, we have achieved a lot together and transformed this site into a strategic cornerstone of component production at ŠKODA AUTO: The milestones include CO2-neutral production since the end of 2020 and the plant's leading position in the field of Industry 4.0. I congratulate the entire team on these remarkable successes!" commented Michael Oeljeklaus, ŠKODA AUTO Board Member for Production and Logistics.
"Our modern DQ200 dual-clutch transmissions can be found in millions of vehicles produced by various Group brands, reliably doing their job. They are manufactured at one of the most advanced high-tech production facilities in the country. The component plant in Vrchlabí is also among the most important industrial employers in the region," said Ivan Slimák, Head of Transmission Production at the Vrchlabí site.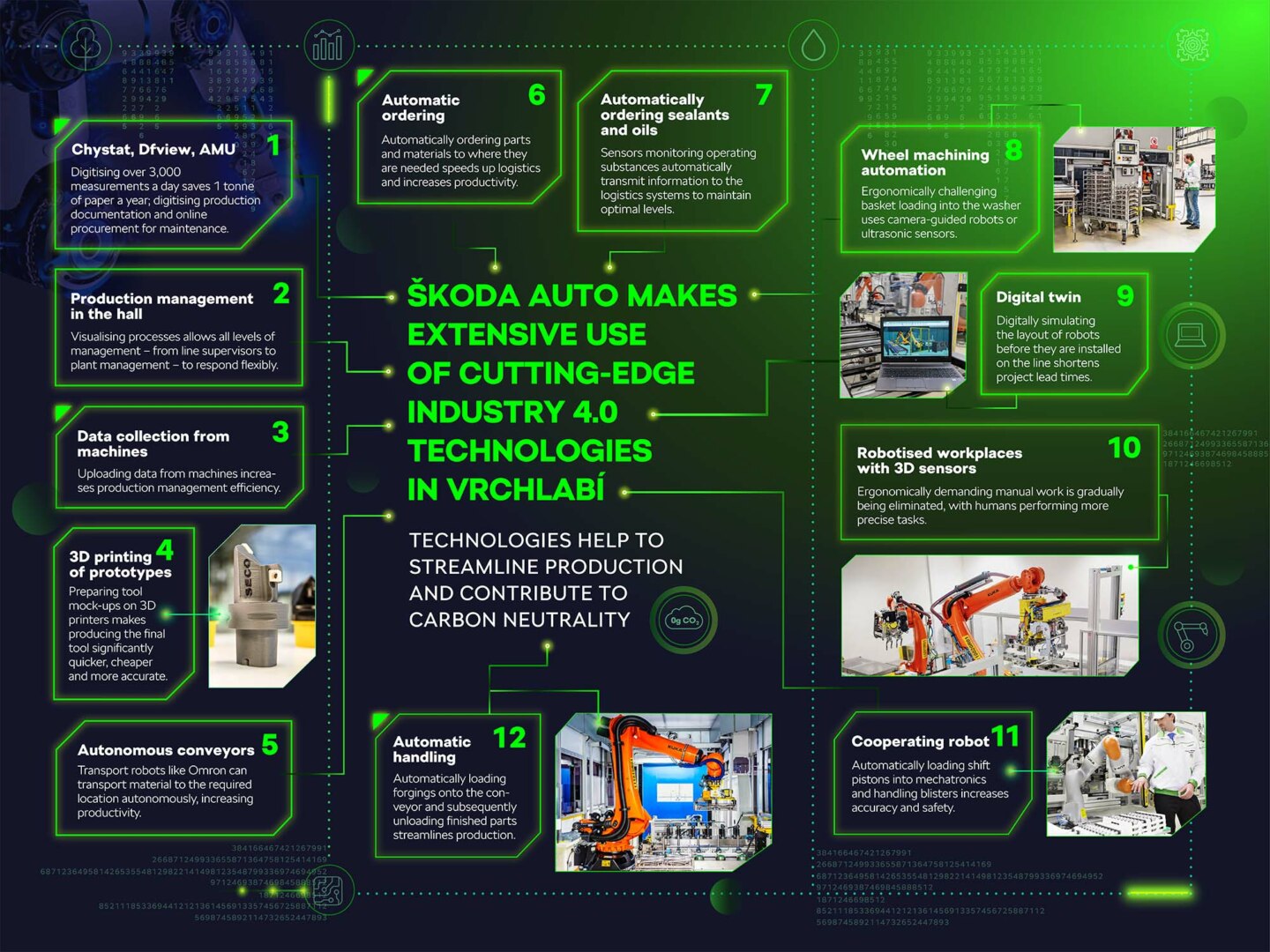 ŠKODA AUTO site since 1946, state-of-the-art component plant since 2012
The Vrchlabí plant was founded back in 1864 and has been a ŠKODA AUTO site since 1946. The company initially manufactured cars here before the production facility was converted into a cutting-edge component plant, with a new factory hall being built within 18 months as part of the site's radical transformation. ŠKODA AUTO and the Volkswagen Group invested around 170 million euros in this project. ŠKODA AUTO has been producing DQ200 transmissions here since October 2012. At first, around 530 employees would produce 1,000 units a day; now 2,340 transmissions are assembled daily by 850 staff. The majority of these transmissions are used in vehicles from other Group brands, while around 38% are installed in ŠKODA cars.
Extensive use of Industry 4.0 technologies
Since the site's conversion was successfully completed, over 200 million euros have been invested in various initiatives and the plant's further development; processes and operations have been widely digitalised and use technologies from the field of Industry 4.0. Cooperating robots assist with inserting the transmission piston and a smart handling robot removes parts from containers and places them on the feed belt of the processing machine. It then removes the machined transmission parts and places them in a transport basket. In addition, the work steps and processes required to set up robot workstations were digitally simulated in advance so that operations could continue while the robots were being set up and integrated.
ŠKODA AUTO's first site worldwide to be CO2-neutral since the end of 2020
Since late 2020, the Vrchlabí plant has been ŠKODA AUTO's first CO2-neutral production site in the world. State-of-the-art machines ensure optimum energy efficiency at the site, with some cooling lubricants being reused several times and lithium batteries installed in transport systems.
ŠKODA AUTO is fully committed to the region where plant operates
As one of the most important employers in the Hradec Králové region, the Czech car manufacturer takes its social responsibility seriously and is actively involved across the region. Among other programmes, the company supplies bicycles to the Krkonoše National Park (KRNAP) and provides vehicles for social services. The car manufacturer also gives financial support within the framework of its endowment fund.
Media contact:
Ariane Kilian
Head of Communications
e: ariane.kilian@skoda-auto.cz
t: +420 326 811 778
SOURCE: ŠKODA AUTO a.s.