(PRESS RELEASE) ARNSTORF, Germany, 13-Oct-2022 — /EuropaWire/ — Lindner Group, Europe's leading supplier, manufacturer and service provider for the interior fit-out, building envelopes and insulation, has unveiled new AirBox S and AirBox E supply and exhaust air elements aimed at maintaining the recommended air exchange rates and guarantee thermal comfort for the building users.
Supply Air and Exhaust Air Elements from Lindner
Concealed on the back of the ceiling system, the AirBox ventilation elements ensure a comfortable climate inside the building. The exhaust and supply air elements are invisibly to preserve the architecture of the room and the design of the ceiling without restriction. The AIRBOX S  supply air element enables a pleasant supply of fresh air and air distribution in the room. The displacement flow diffuser ensures a low flow velocity, which prevents noise and draughts. Supplemented by the exhaust air element AIRBOX E, the circuit is closed and the stale room air is unobtrusively discharged.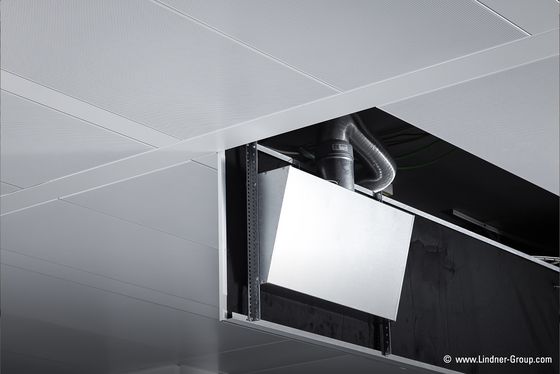 Ventilation Components for Project-specific Requirements
Depending on the requirements, the AirBox S and AirBox E ventilation elements can each be selected in three defined types with different volume flows: In addition to the defined standard sizes, project-specific designs are also possible here. However, the prerequisite at this point is a perforation of the ceiling system with an open area of at least 13 % in order to be able to mount the ventilation components on the back of the ceiling panel. Furthermore, the supply and exhaust air elements can be easily combined with Lindner LMD METAL CEILINGS and PLAFOTHERM® HEATED/CHILLED CEILINGS – in closed metal ceilings as well as in canopy ceilings.
Lindner Lives and Breathes Cycles
Sustainable construction currently places special demands on building materials and products: For this reason, Lindner system products feature a self-declaration in accordance with ISO 14021, thereby providing comprehensive information on the environmental impact of the ventilation components. The AirBox S and E supply and exhaust air elements are made of materials that have virtually no emissions of VOCs and formaldehyde, for example. In addition, the ventilation components fulfil the Circular Economy concept due to their modular design: Thus, the elements can be dismantled without destruction and are deconstruction and recycling friendly. By keeping the supply and exhaust air elements in a closed cycle, a contribution can also be made to waste avoidance and environmental protection.
Media contact:
CHRISTINA RIEGER
PR and Media
press@Lindner-Group.com
+49 8723 20-3148
SOURCE: Lindner Group