(PRESS RELEASE) ARNSTORF, Germany, 8-Dec-2022 — /EuropaWire/ — Lindner Group, Europe's leading supplier, manufacturer and service provider for the interior fit-out, building envelopes and insulation, has announced two new innovative tenant fit-out projects in Hamburg. The 1st is for the consultancy firm DEKA Investment while the 2nd project is for Prodware Group, an innovative technology company specialized in Microsoft technologies and digital transformation.
TENANT FIT-OUT is a fit-out model that has become increasingly popular in recent years. Especially in times of uncertainty, companies no longer want to invest in expensive company headquarters, but see renting as a flexible, sustainable alternative. The change in working methods – towards increasing home office quotas and flexible working time models – also requires new, changeable options for optimising space. The aim of tenant fit-out is to unite the different interests of tenant and owner: Tenants benefit from the greatest possible design freedom and a working environment that is optimally adapted to their needs. For owners, on the other hand, this means relief with regard to building investments beyond the shell.
A good Plan is Half the Battle
At the Lindner Group, the optimal tenant fit-out begins even before the actual construction: the offer ranges from conception and brainstorming, via production and fit-out, to deconstruction and refurbishment. After use, Lindner offers a TAKE-BACK SERVICE for certain products, e.g. FLOOR PANELS, so that the user does not have to worry about proper disposal. The company's in-house research and development department regularly deals with innovations and new solutions, and around 2,500 own fitters later take care of the professional installation of the systems. In the process, attention is always paid to combining individual room design with optimum acoustics, a pleasant room climate and suitable lighting.
Expertum
The EXPERTUM GROUP'S OFFICE is a perfect example of individual tenant fit-out: DEKA Investment commissioned Lindner with the tenant fit-out, including execution planning, for the recruitment and consultancy firm based at Stadthausbrücke 1-3 in Hamburg. The result is a creative workspace with inviting communication corners, acoustically optimised meeting rooms and a flexible room layout. In keeping with the company motto "From industry. For industry", the rooms were kept in the latest industrial style. The Lindner Life Industrial partition systems and various Lindner luminaires ensure a modern appearance. Various technical building services, flooring work, painting work, drywall construction in combination with doors and carpentry work complete the tenant fit-out.
Prodware
The SKAI, a modern office building at Hamburg's Sandtorpark, contains various working environments for different tenants. Located directly in the historic Speicherstadt, it is also home to the PRODWARE GROUP – an innovative technology company specialising in Microsoft technologies and digital transformation. After being commissioned by the landlord and building owner Pembroke, Lindner carried out the tenant fit-out and deconstruction. In the process, the client placed great emphasis on the sustainability and flexibility of the installed systems: The products were chosen in such a way that they can continue to be used when a tenant changes, thus saving costs for both landlord and tenant. Cosy meeting corners, large conference rooms and contemporary workplaces now line the rental space. Among other things, Lindner Life Clear partition systems were used for this. For the tenant fit-out, various technical building services, tiling work, flooring work, painting work, drywall construction including doors and joinery work were carried out.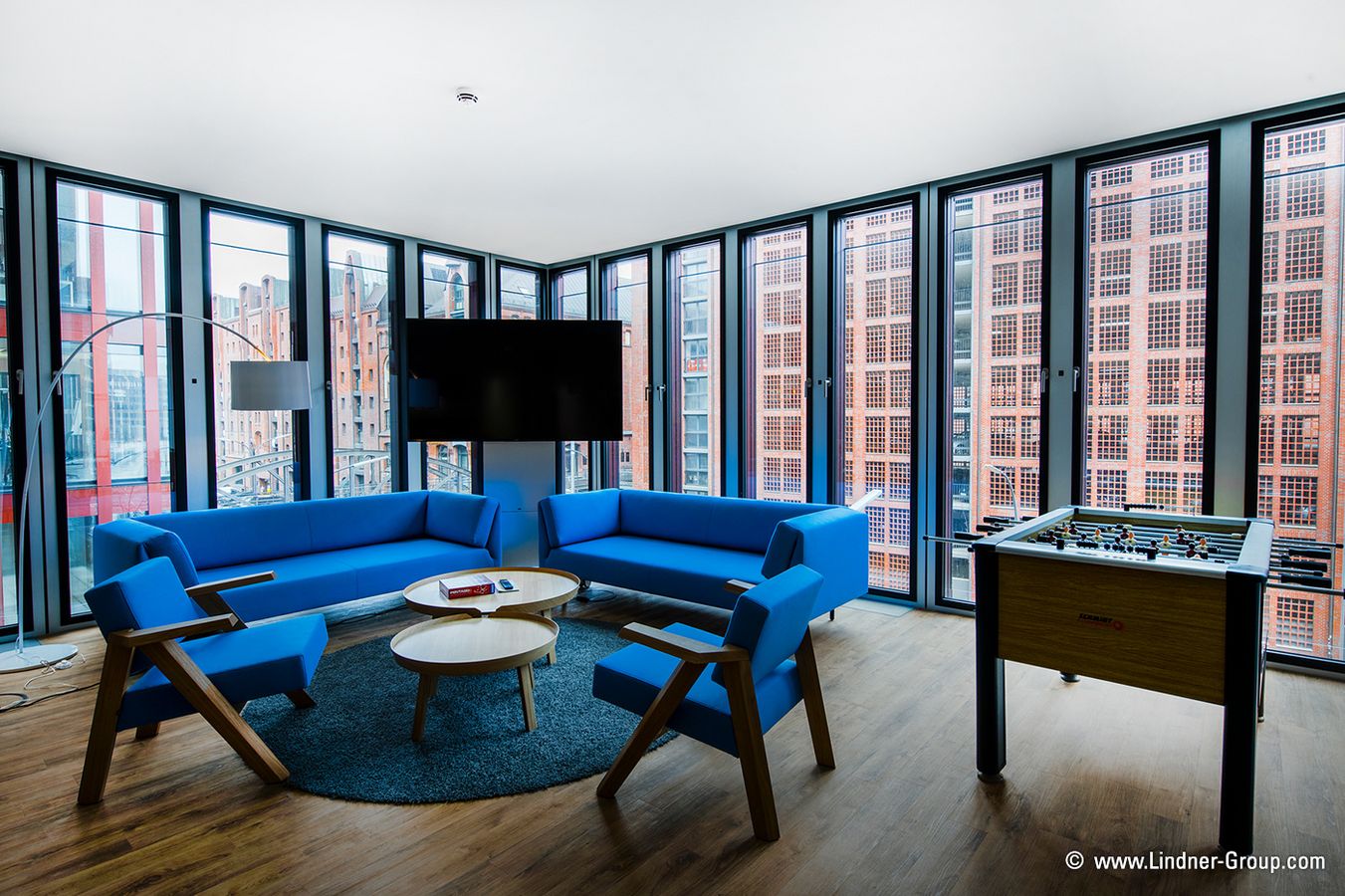 Same Idea – Different Realisations
Tenant fit-outs can be so different and yet so similar: classic fit-out services were carried out for both tenants, and partition systems were used in each case. A warm wood look in combination with a lot of grey and black can also be found in both projects. However, differences can be seen primarily in the design and the products used: While Expertum relies on a lot of green, Prodware primarily uses blue and yellow elements – matching the corporate colours. The rooms of the Expertum Group were kept in a modern industrial style, embodied by the Lindner Life Industrial with a black frame and walls in a brick look. The tenant fit-out at Prodware, on the other hand, has a more restrained look and impresses with simple elegance, for example with the Lindner Life Clear glass partition.
Media contact:
CHRISTINA RIEGER
PR and Media
press@Lindner-Group.com
+49 8723 20-3148
SOURCE: Lindner Group