(PRESSEMITTEILUNG) LONDON, 18-Jul-2022 — /EuropaWire/ — Rolls-Royce (LSE:RR., ADR:RYCEY), das herausragende Engineering-Unternehmen mit Fokus auf Leistung von Weltklasse und Antriebssysteme, hat angekündigt, dass es die Trent 700-Triebwerke von Flypop im Rahmen des neuen TotalCare®-Servicevertrags unterstützen wird, der mit der neuen britischen Billigfluggesellschaft unterzeichnet wurde. Die Triebwerke werden vier Airbus A330ceo-Flugzeuge antreiben.
Die Vereinbarung ist die erste, die zwischen Rolls-Royce und flypop unterzeichnet wurde, und wird der Fluggesellschaft Vorhersehbarkeit und Zuverlässigkeit für die Dienstleistungen und die Wartung der Flotte bieten.
Als Flaggschiff-Serviceangebot von Rolls-Royce deckt TotalCare die Reparatur und Überholung von Flügeln ab und soll den Kunden Betriebssicherheit bieten, indem die Zeit am Flügel und das Wartungskostenrisiko zurück an Rolls-Royce übertragen werden. Dank des fundierten Triebwerkswissens von Rolls-Royce, das sich auf unsere fortschrittliche Überwachung des Triebwerkszustands stützt, wird es auch eine verbesserte Flugzeugverfügbarkeit bieten.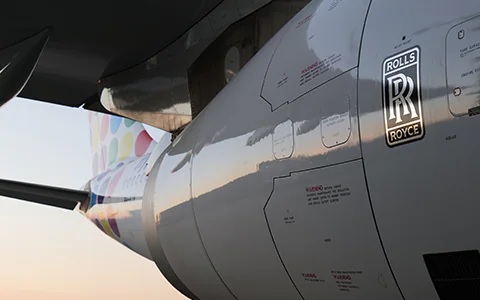 Ewen McDonald, Chief Customer Officer, Rolls-Royce, sagte: "Wir freuen uns, diesen Servicevertrag mit Flypop zu unterzeichnen, da die Fluggesellschaft ihren Betrieb in Südasien aufnimmt, und freuen uns darauf, die Trent 700-Flotte für zu unterstützen viele Jahre."
Hitesh Patel, Chief Operating Officer, Flypop, sagte: "Unsere A330 sind die ersten Großraumflugzeuge in unserer Flotte und bieten eine deutliche Erweiterung des Serviceniveaus, das wir unseren Passagieren bieten können. Wir schätzen diese TotalCare-Vereinbarung, die die Verfügbarkeit und Effizienz der Flugzeuge maximiert und es uns ermöglicht, einen hervorragenden Kundenservice zu bieten."
Ian Smith, Technical Director, flypop, sagte: "Nach viel harter Arbeit von beiden Teams freut sich flypop, diese Support-Vereinbarung mit Rolls-Royce abzuschließen, von der wir fest erwarten, dass sie weltweit geliefert wird -Class-Zuverlässigkeit und Flugzeugverfügbarkeit. Dies wird die Mission von flypop unterstützen, kostengünstige und zuverlässige Flüge zwischen Großbritannien und Südasien anzubieten. Ich freue mich auf die enge Zusammenarbeit mit Rolls-Royce, um Flypop die erwarteten Vorteile zu bieten."
Der Trent 700, der mehr als 65 Millionen Flugstunden an Erfahrung gesammelt hat, bietet Fluggesellschaften Weltklasse-Zuverlässigkeit mit einer Abfertigungsrate von 99,9 % und der längsten Flugzeit aller A330-Triebwerksoptionen.
flypop ist eine britische internationale Billigfluggesellschaft, die die günstigsten Nonstop-Flüge zwischen Großbritannien und den zweitgrößten Städten Südasiens, beginnend mit Indien, anbietet. Ihr Airbus A330-300 wird den Passagieren ein vollständig kostengünstiges, anpassbares Borderlebnis bieten, von der neuesten Bluebox-Bordunterhaltung, die auf jedes persönliche Gerät gestreamt wird, Optionen für mehr Beinfreiheit und die Möglichkeit, Speisen, Getränke und Leckereien über Flypop Digital zu bestellen Trolley bequem von ihrem Sitz aus.
Über Rolls-Royce Holdings plc
Rolls-Royce leistet Pionierarbeit bei der Macht, die wichtig ist, um die Gesellschaft zu verbinden, zu stärken und zu schützen. Wir haben uns verpflichtet, in unseren Betrieben bis 2030 Netto-Null-Treibhausgasemissionen (ohne Produkttests) zu erreichen, und haben uns 2020 der UN-Kampagne "Race to Zero" angeschlossen, um unseren Ehrgeiz zu bekräftigen, eine grundlegende Rolle dabei zu spielen, dass die Sektoren, in denen wir tätig sind, Netto-Null erreichen Kohlenstoff bis 2050.
Rolls-Royce hat Kunden in mehr als 150 Ländern, darunter mehr als 400 Fluggesellschaften und Leasingkunden, 160 Streitkräfte und Marinen sowie mehr als 5.000 Energie- und Nuklearkunden.
Der zugrunde liegende Jahresumsatz belief sich im Jahr 2021 auf 10,95 Mrd. £, der zugrunde liegende Betriebsgewinn auf 414 Mio. £ und wir investierten 1,18 Mrd. £ in Forschung und Entwicklung. Wir unterstützen auch ein globales Netzwerk von 28 Universitäts-Technologiezentren, die Rolls-Royce-Ingenieure an der Spitze der wissenschaftlichen Forschung positionieren.
Rolls-Royce Holdings plc ist ein börsennotiertes Unternehmen (LSE: RR., ADR: RYCEY, LEI: 213800EC7997ZBLZJH69)
Über Flypop Ltd
flypop ist eine britische internationale Billigfluggesellschaft, die die günstigsten Nonstop-Flüge zwischen Großbritannien und den zweitgrößten Städten Südasiens, beginnend mit Indien, anbietet.
Kernpassagiersegmente sind die südasiatischen Diaspora-Gemeinden in Großbritannien, Europa und Nordamerika und ihre "visiting friends and relatives" (VFR) und Touristen.
Die Flotte von flypop besteht aus vier Airbus A330-300-Flugzeugen mit Rolls Royce Trent 700-Triebwerken.
HAFTUNGSAUSSCHLUSS: Die deutsche Version dieser Pressemitteilung ist eine Übersetzung der Original-Pressemitteilung, die in englischer Sprache verfasst ist, und dient nur zu Informationszwecken. Im Falle einer Abweichung ist die englische Version dieser Pressemitteilung maßgebend.
PRESSEKONTAKT:
Christoph Ringwald
Communications Director – Power Systems
Christoph.ringwald@rrpowersystems.com
https://www.linkedin.com/in/christophringwald/
SOURCE: Rolls-Royce plc