(PRESS RELEASE) LONDON, 18-Jul-2022 — /EuropaWire/ — Rolls-Royce (LSE:RR., ADR:RYCEY), the pre-eminent engineering company with focus on world-class power and propulsion systems, has announced that it will support the Trent 700 engines of flypop as part of new TotalCare® service agreement signed with the new British low-cost airline. The engines will power four Airbus A330ceo aircraft.
The agreement is the first to be signed between Rolls-Royce and flypop and will provide the airline with predictability and reliability for the services and maintenance of the fleet.
As Rolls-Royce's flagship service offering, TotalCare covers off-wing repair and overhaul and is designed to provide operational certainty for customers by transferring time on wing and maintenance cost risk back to Rolls-Royce. It will also deliver enhanced aircraft availability thanks to Rolls-Royce's in-depth engine knowledge that draws on our advanced engine health monitoring.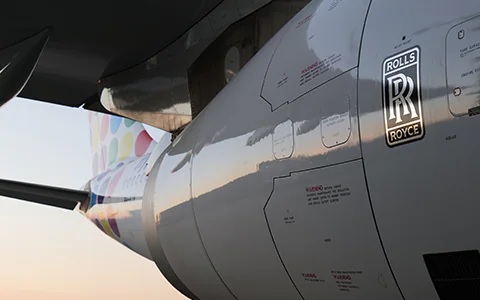 Ewen McDonald, Chief Customer Officer, Rolls-Royce, said: "We are delighted to sign this service agreement with flypop as the airline begins its operations to South Asia and look forward to supporting the Trent 700 fleet for many years."
Hitesh Patel, Chief Operating Officer, flypop, said: "Our A330s are the first widebodies in our fleet and provide a significant expansion in the levels of service we can provide our passengers. We value this TotalCare agreement, which will maximize aircraft availability and efficiency, allowing us to provide outstanding customer service."
Ian Smith, Technical Director, flypop, said: "After a great deal of hard work from both teams, flypop is delighted to enter into this support arrangement with Rolls-Royce, which we fully expect to deliver world-class reliability and aircraft availability. This will support flypop's mission to offer low-cost, reliable flights between the UK and South Asia. I look forward to working closely with Rolls-Royce to deliver the expected benefits to flypop."
The Trent 700, which has accumulated more than 65 million flying hours of experience, offers airlines world-class reliability, with a 99.9% dispatch rate and the longest time on wing of any A330 engine option.
flypop is a low-cost British international airline providing the lowest cost non-stop flights between the UK and the second cities of South Asia, starting with India. Their Airbus A330-300 aircraft will offer passengers a fully low-cost customisable in-flight experience from the latest Bluebox inflight entertainment streamed to any personal device, options for increased leg room and the facility to order food, drinks and goodies from the flypop digital trolley from the comfort of their seat.
About Rolls-Royce Holdings plc
Rolls-Royce pioneers the power that matters to connect, power and protect society. We have pledged to achieve net zero greenhouse gas emissions in our operations by 2030 (excluding product testing) and joined the UN Race to Zero campaign in 2020, affirming our ambition to play a fundamental role in enabling the sectors in which we operate achieve net zero carbon by 2050.
Rolls-Royce has customers in more than 150 countries, comprising more than 400 airlines and leasing customers, 160 armed forces and navies, and more than 5,000 power and nuclear customers.
Annual underlying revenue was £10.95 billion in 2021, underlying operating profit was £414m and we invested £1.18 billion on research and development. We also support a global network of 28 University Technology Centres, which position Rolls-Royce engineers at the forefront of scientific research.
Rolls-Royce Holdings plc is publicly traded company (LSE: RR., ADR: RYCEY, LEI: 213800EC7997ZBLZJH69)
About flypop Ltd
flypop is a low-cost British international airline providing the lowest non-stop flights between the UK and the second cities of South Asia, starting with India.
Core passenger segments are the South Asian diaspora communities in the UK, Europe and North America and their 'visiting friends and relatives' (VFR) and tourists.
flypop's fleet consists of four Airbus A330-300 aircraft with Rolls Royce Trent 700 engines.
Media contact:
Christoph Ringwald
Communications Director – Power Systems
Christoph.ringwald@rrpowersystems.com
https://www.linkedin.com/in/christophringwald/
SOURCE: Rolls-Royce plc