The Hague, Netherlands, 17-8-2015 — /EuropaWire/ — APM Terminals delivered a profit of USD 161m (USD 223m) and a ROIC of 10.9% (14.2%). The underlying profit was  USD 159m (USD 211m). The result was  negatively impacted by a revenue reduction of 8.6% caused by decreased volumes in key oil de- pendent markets as well as divestments in 2014 and weakening of local currencies against the USD resulting in lower revenue in USD terms.
The number of containers handled by APM Terminals (weighted with APM Terminals' ownership interest) decreased by 6% com- pared to 2014, reaching 9.2m TEU (9.8m TEU). This was impacted by the divestment of APM Terminals Virginia, Portsmouth, USA and Terminal Porte Océane S.A. Le Havre, France during Q3 2014. Excluding these, like-for-like volumes decreased by 3.5% in Q2, whereas the overall global container market grew approximately by 4.3% in Q2 (Drewry).
The lower oil price resulted in significantly less import volumes in West Africa and Russia, which was  partially offset by vol- ume ramp up in Santos, Brazil. Revenue improvement and  cost savings initiatives have been implemented across the global portfolio successfully delivering improvements of more than USD 100m in the first half of 2015, however the impact from the adverse market conditions was only partly mitigated.
The share of profit from joint venture and associate companies remained in line with last year at USD 54m (USD 53m).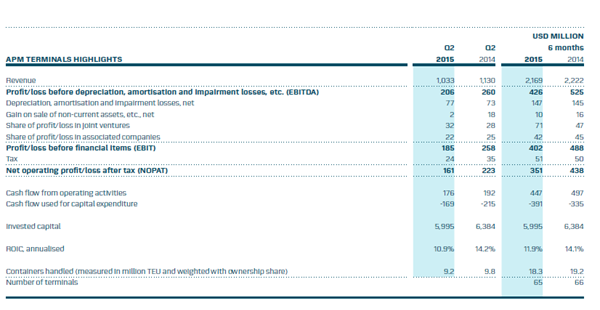 Although certain tax incentives have expired since Q2 2014, the effective tax rate decreased to 12.4% (13.9%) due to lower profits in terminals with a relatively high tax rate.
Cash flow from operating activities of USD 176m (USD 192m) developed in line with the operational results. Cash flow used for capital expenditure in the quarter decreased from USD 215m in Q2 2014 to USD 169m in Q2 2015.
###