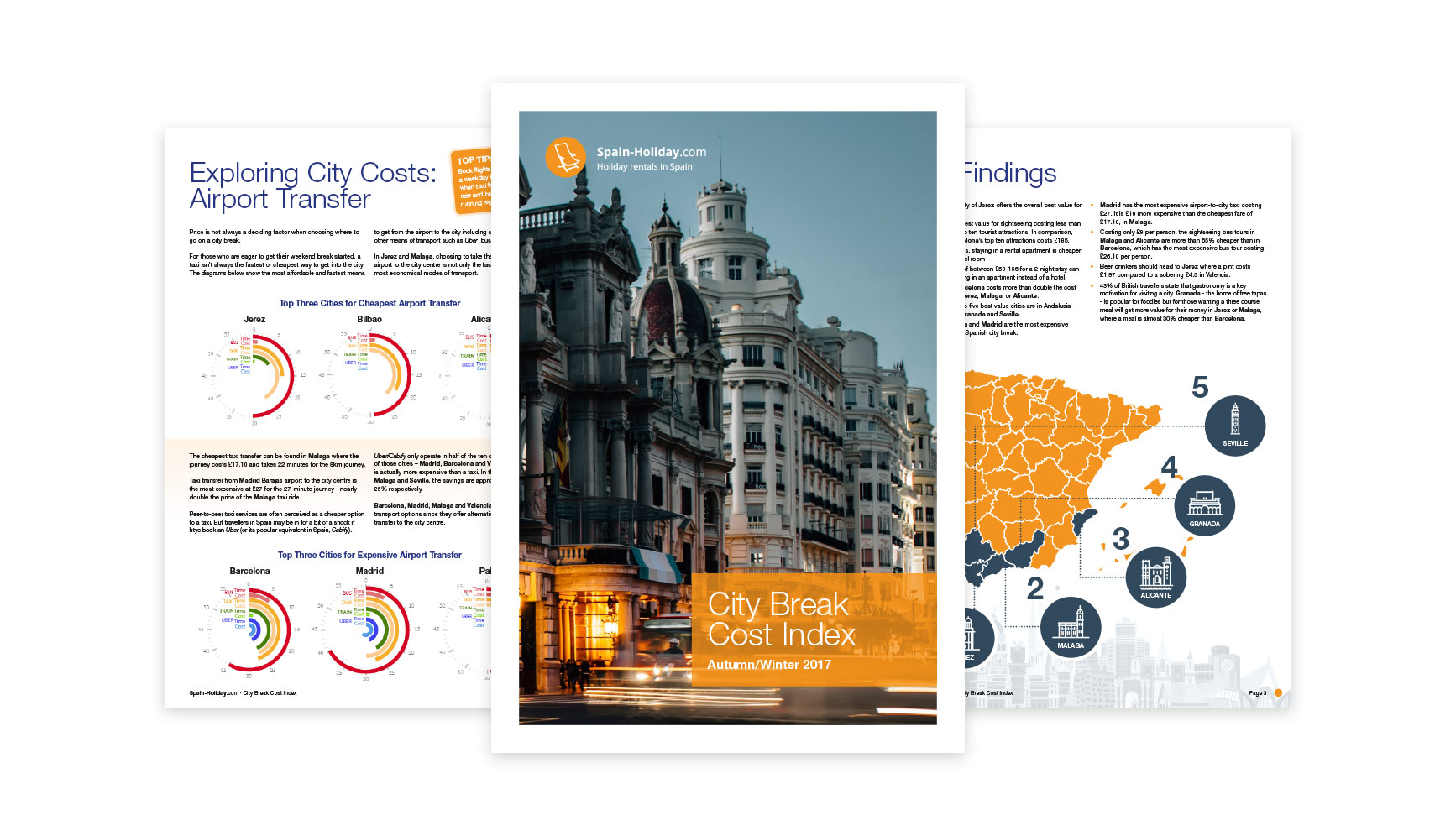 Malaga, Spain, 01-Nov-2017 — /EuropaWire/ — With the clocks going back last weekend and the winter nights closing in, the impulse to book a last-minute flight to somewhere sunny is very tempting.
However, a cheap flight does not necessarily mean a cheap and cheerful weekend away.
Which city destination offers the best value depends to a large extent on how much you spend when you get there. The City Break Cost Index published by the Spain-Holiday.com reveals how typical costs for travellers varies greatly from city to city in Spain this autumn/winter. It examines everything from the price of airport transfer by taxi, bus, train and *Uber*, eating out, accommodation and things to do.
Where to go to escape the winter blues on a budget?
As you might expect, the report reveals that the most expensive cities are also the most popular cities – Barcelona, Madrid and Palma – but you may be surprised which cities offer the best value.
TOP 5 CHEAPEST CITY BREAK DESTINATIONS IN SPAIN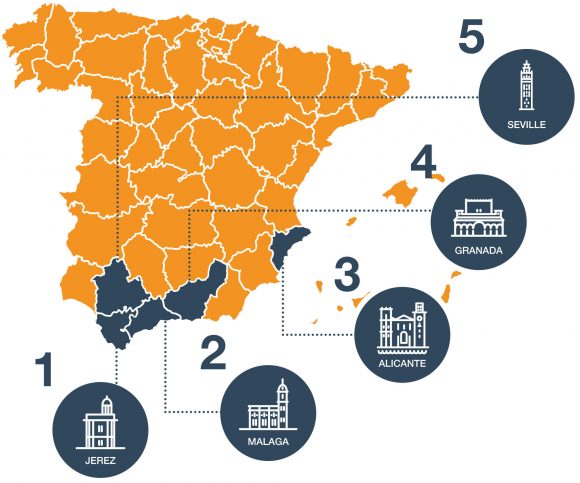 The Andalusian city of Jerez, famous for its sherry and dancing Andalusian horses, is the cheapest city to visit for a weekend break.
Andalusia is the top region to visit for a short break, with four cities – Jerez, Seville, Granada and Malaga – in the top 5 cheapest city break destinations. With new flight routes from the UK to Seville and Granada this winter, you can catch a flight and, within 3 hours, be enjoying tapas in a Spanish "plaza" in the November sunshine.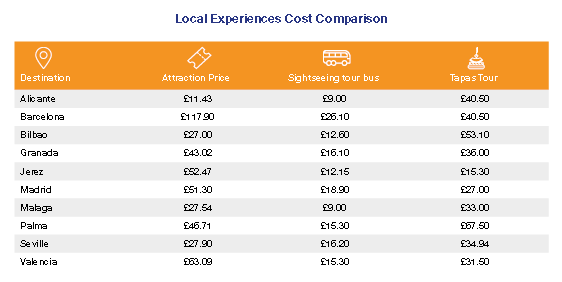 Comparing the price of visiting the top 10 attractions in each city, Barcelona is the most expensive city, costing £117 per person to visit attractions such as Sagrada Familia, Casa Battlo, Camp Nou Experience and Las Ramblas (which is thankfully free). In comparison, you would get change from £30 to visit the top 10 attractions in the cities of Alicante, Bilbao, Malaga and Seville.
After booking flights, travellers spend an average of £596 on a city break in Spain. Accommodation, eating out and visiting tourist attractions are what visitors are most likely to spend their budget on. The biggest cost tends to be accommodation, with travellers spending an average of £241 for a 2-night stay.
While hotels remain one of the top accommodation choices, staying in a city centre apartment not only offers flexibility but huge savings too.
For example, a rental apartment for two people in Malaga costs up to £156 less than a double room in a hotel. And for under £200, a couple can find quality rental accommodation for 2-nights in the heart of Jerez, Malaga, Alicante and Valencia.
Jannich Petersen, COO of Spain-Holiday.com commented:
"City breaks are almost as popular as sun and beach holidays to Spain and now represent 26% of all holidays."
"The top 10 Spanish cities differ greatly in their appeal and there is something for everyone, whether they are culture vultures, shopaholics, foodies or those looking for a vibrant nightlife.
The City Break Cost Index aims to provide clarity for travellers to plan and budget for a memorable weekend winter break in Spain that doesn't break the bank".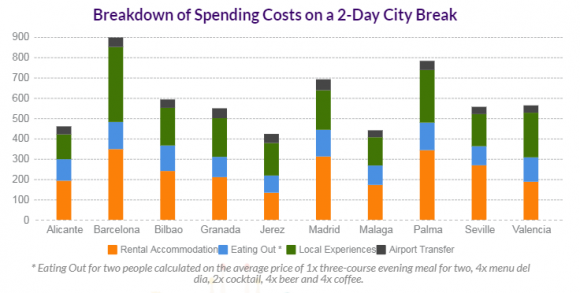 Money saving tips
Visiting one of Spain's second cities is a great money-saving strategy since prices are generally much lower than in the tourist hot spots. A weekend away in Jerez, Malaga or Alicante will cost approximate half price of a weekend away in the tourist hot spot of Barcelona.
Spain-Holiday.com also suggests other ways to keep the cost down such as avoiding booking an Uber from the airport which, in 3 out of 5 cities, is more expensive than a taxi.
Also, book tourist attractions entrance tickets directly, as opposed to through a ticket agency, to get the best price.
Another top tip they offer is to check out whether the museums and cultural attractions offer free entry on a particular day of the week.
*END*
The full report, graphics and diagrams are available to download in the Press Folder.
About Spain-Holiday.com:
Spain-Holiday.com is the leading holiday rental specialist in Spain with more than 10,000 holiday rental properties in mainland Spain, the Canary Islands and the Balearic Islands, from family beachfront villas to great value city apartments and charming rural properties off the beaten track.
For the safest possible route to holiday rental property booking in Spain or for further information, contact Spain-Holiday.com on 020 3807 1349 or visit www.spain-holiday.com.
Media enquiries:
For further information, quotes or photography please contact Nicola Erlich, Spain-Holiday.com tel: +34 616399382, email: nicola@spain-holiday.com.
Notes to editors:
Spain-Holiday.com's website provides regularly-updated articles with excellent insider tips, detailed area guides and useful maps, plus professionally-produced HD video footage of a wide range of Spain's cities and coastal resorts.
Follow us on
Facebook
Twitter
RentalBuzz
Google+
Logos: