Moustaches fixed to trains on the Waterloo to Reading line
Twitter competition asked passengers to '#SpotaMoTrain'
Four winners to receive prizes
Southampton, UK, 04-12-2013 — /EuropaWire/ — South West Trains- Network Rail Alliance today (Friday 29 November) announced the winners of its Movember #SpotaMoTrain competition.
During November, the South West Trains-Network Rail Alliance attached moustaches to the front and back of a number of its trains that run on the Waterloo to Reading line, in support of the men's health charity Movember.
To promote this worthy cause the Alliance also launched a Twitter based competition asking passengers to #SpotaMoTrain and tweet in a picture of one of the moustached trains. Customers were also asked to suggest a name for their train.
In a draw at Waterloo station, Twitter user @josclothes was drawn as the winner of a month's season ticket and three runners up, @jakeplaskitt, @stephen_A_Moore and @emmajarvis were picked at random to win a first class day return ticket for a family of four to any location on the South West Trains network.
The Movember charity, which aims to raise funds to fight prostate and testicular cancer and raise awareness about mental health issues, helps fund many charities and support groups across the South West Trains network.
Fleet Director for the South West Trains-Network Rail Alliance Christian Roth, who has grown his own moustache for Movember said, "We're delighted that so many of our passengers have embraced this competition and have tweeted us with their pictures. I've seen a lot of smiles on faces of passengers when they've spotted these trains out on the network. Most of all though, it has helped to raise awareness of important men's health issues"
Passengers were also asked to suggest names for the trains and for one day only (Friday 20 November) a number of them have been named after famous moustached people:
Ned Flanders, Magnum PI, Groucho Marx, Lionel Richie, Nigel Mansell, Colonel K, Terry Thomas, Freddie Mercury, Ron Burgundy, Dick Dastardly, Hercule Poirot, Stephen Fry, John Cleese.
Ends
Captions for picture from Left- Right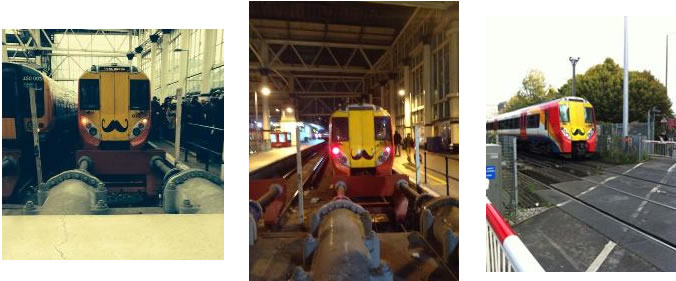 First picture was the winner and was courtesy of @josclothes
Three runners up prizes @emmajarvis , @stephen_A_Moore , @jakeplaskitt