• Mobile App for online instant fragrance search
• User friendly navigation through a comprehensive fragrance map
• Zoom-in/zoom-out fragrance (family) search
Holzminden, Germany, 13-1-2016 — /EuropaWire/ — The Symrise Genealogy of Fine Fragrances enters the digital world with its own App for mobile devices. It allows customers to instantly search for fragrances anytime, everywhere, thus offering them a smart device experience of the Fine Fragrance genealogy.

"Symrise has been a pioneer in the fine fragrance genealogy and is still a step ahead by now going digital with its unique family tree of fragrances for smart phones and tablets", says Isabelle Vacheret, Senior Vice President Global Marketing Scent & Care at Symrise. "Our modern world is always in motion, is getting ever more connected. Everyone is spending more and more time with their mobile devices surfing the internet and working with social media. That is why we developed our digital Fine Fragrance Genealogy. It will give our customers an instant and time-saving experience of our Fine Fragrance Genealogy as they may now access it whenever and wherever they want."
The Genealogy app entails classical elements of mobile devices. Both, within the masculine and feminine versions, a user-friendly navigation guides directly to product families, the alphabetical index or a direct search function. With practical zoom and scroll functionality users can swiftly maneuver through all nine fragrance families and go directly to their fragrance of choice. Every fragrance family and single fragrance comes with a detailed description. The fragrance app also supports connectivity by adding preferred scents to favorites and a share via e-mail functionality.

WE MAKE IT CONNECTED:
Scan the QR code with mobile or tablet to discover The Symrise Genealogy App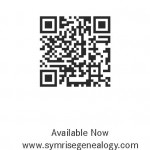 About the Symrise Fine Fragrance Genealogy
The Symrise Fine Fragrance Genealogy offers a complete overview over the most popular fragrances of today as well as the past four decades. Grouped into feminine and masculine fragrances and the nine fragrance families – perfume enthusiasts find comprehensive information on the most successful fragrances. Over 40 years, Symrise has been mapping the most successful and popular fragrances worldwide and has clustered them into a tabular overview according to their launch year and fragrance family.
About Symrise
Symrise is a global supplier of fragrances, flavorings, cosmetic base materials and substances, as well as functional ingredients. Its clients include manufacturers of perfumes, cosmetics, food and beverages, the pharmaceutical industry and producers of nutritional supplements and pet food.
Its sales of more than € 2.1 billion in the 2014 fiscal year place Symrise among the top three companies in the global flavors and fragrances market. Headquartered in Holzminden, Germany, the Group is represented in over 40 countries in Europe, Africa, the Middle East, Asia, the United States and Latin America.
Symrise works with its clients to develop new ideas and market-ready concepts for products that form an indispensable part of everyday life. Economic success and corporate responsibility are inextricably linked as part of this process. Symrise thus takes sustainability into account in every part of its corporate strategy. The company was awarded the German Sustainability Award in 2012. In 2013, Symrise was certified as a "Green Company" by DQS. Symrise – always inspiring more…
www.symrise.com
Media Contact:
Bernhard Kott
Phone: +49 (0)5531 90-1721
E-mail: bernhard.kott@symrise.com
Christina Witter
Phone: +49 5531 90-21 82
E-mail: christina.witter@symrise.com
SOURCE: Symrise