BRUSSELS, 20-Sep-2017 — /EuropaWire/ — Solvay publishes today restated consolidated financial information for 2015, 2016 and the first half of 2017, reflecting the reclassification in discontinued operations of the polyamide activities to be sold to BASF. The planned divestment, with an enterprise value of €1.6 billion, is aimed to close in the third quarter of 2018, after completion of consultation with the relevant social bodies, and subject to certain conditions including customary regulatory approvals.
Solvay's full year guidance is updated to reflect the perimeter change and significant changes in exchange rates. The Polyamide business performed particularly strongly this year and its discontinuation reduces the Group's 2017 EBITDA growth. The weakening of most foreign currencies versus the euro also reduces profit reported in euros.  Based on current exchange rates, Solvay estimates 6% to 8% underlying EBITDA growth for the full year 2017.
Solvay remains on track to achieve the previous guidance of more than €800 million of free cash flow.
"This development is another significant milestone in the evolution of our portfolio.  Further, the continued focus on operational performance positions us well to continue to deliver on all our strategic commitments," said Karim Hajjar, CFO of Solvay.
The table below summarizes the changes to underlying [1] key figures.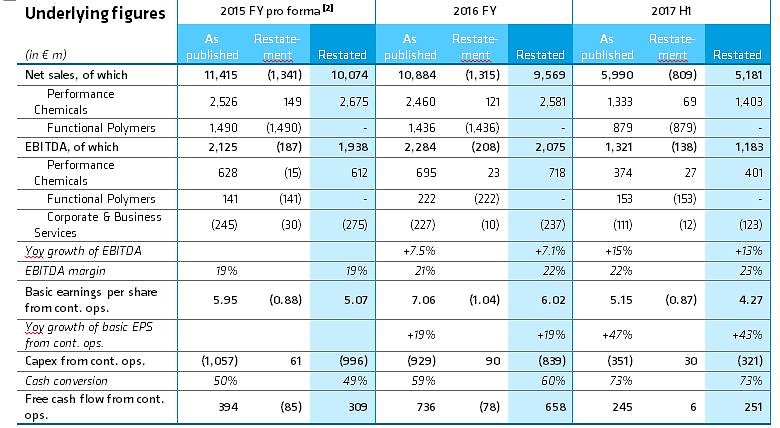 The remaining business activities in the segment Functional Polymers will be reported under the segment Performance Chemicals. These activities consist of Solvay's PA6.6 fiber business in Latin America and Solvay's stake in the Russian PVC joint venture Rusvinyl, which is reported according to the equity method. The EBITDA restatements in the Corporate & Business Services segment result from residual costs that were previously allocated to the discontinued business activities. Cost reduction measures to absorb these residual costs will continue to feature prominently in Solvay's operational excellence programs.
The financial reporting for the following reporting periods will be published on this restated basis. The balance sheet at September 30, will represent the discontinued polyamide activity into assets held for sale and associated liabilities.
More detailed figures are provided in the following pages and comprise:
Group restated income statement on an IFRS basis per quarter for 2016 and 2017;
Group restated income statement on an underlying basis [1] for the full year 2015 pro forma [2] and per quarter in 2016 and 2017;
Group restated capex and free cash flow from continuing operations for the full year 2015 pro forma [2] and per quarter in 2016 and 2017;
Segment restated net sales, underlying EBITDA and underlying EBIT per quarter in 2016 and 2017, as well as for the full year 2015 pro forma, and capex for the full year 2015 pro forma and 2016;
Reconciliation per quarter and year of "as published" figures with restated figures on an IFRS basis and on an underlying basis for 2016 and 2017 per quarter and 2016 full year.
The 2016 full year figures on an IFRS basis have been audited. Other figures are provided on an unaudited basis, i.e. quarterly figures, underlying figures and pro forma 2015 figures.
An excel version of the tables is provided on Solvay's website on: http://www.solvay.com/en/investors/news_and_results/results/2017/index.html.
The financial glossary may be consulted on:
http://www.solvay.com/en/investors/shareholders-corner/solvay-in-action/sia-glossary.html.
[1] Besides IFRS accounts, Solvay presents underlying income statement performance indicators to provide a more consistent and comparable indication of the Group's financial performance. These adjust IFRS figures for the non-cash Purchase Price Allocation (PPA) accounting impacts related to acquisitions, for the coupons of perpetual hybrid bonds, which are classified as dividends under IFRS but treated as financial charges in the underlying statements, and for other elements to produce a measure that would otherwise distort the analysis of the Group's underlying performance.
[2] Solvay presents pro forma financial information on an unaudited basis for 2015, as if the acquisition of Cytec had taken place on January 1, 2015. It combines Solvay's and Cytec's income and cash flow statements on a stand-alone basis, after alignment of accounting policies and purchase price allocation impacts (i.e. amortization of intangible fair value step-ups and recognition in cost of goods sold of the inventory fair value step-up). The pro forma information also takes into account the estimated additional financing costs related to the acquisition as well as the acquisition related costs. However, expected synergies have not been reflected.
Solvay is a multi-specialty chemical company, committed to developing chemistry that addresses key societal challenges. Solvay innovates and partners with customers in diverse global end markets. Its products and solutions are used in planes, cars, smart and medical devices, batteries, in mineral and oil extraction, among many other applications promoting sustainability. Its lightweighting materials enhance cleaner mobility, its formulations optimize the use of resources and its performance chemicals improve air and water quality. Solvay is headquartered in Brussels with around 27,000 employees in 58 countries. Net sales were € 10.9 billion in 2016, with 90% from activities where Solvay ranks among the world's top 3 leaders. Solvay SA (SOLB.BE) is listed on Euronext Brussels and Paris (Bloomberg: SOLB.BB – Reuters: SOLB.BR) and in the United States its shares (SOLVY) are traded through a level-1 ADR program.
SOURCE: Solvay
MEDIA CONTACT
Caroline Jacobs
Head of Corporate Media Relations
rue de Ransbeek 310 1120 Brussels, Belgium
Tel +32 2 264 15 30