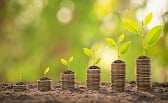 (PRESSEMITTEILUNG) LONDON, 21-Feb-2022 — /EuropaWire/ — Das gab Schroders (LON: SDR), eine britische multinationale Vermögensverwaltungsgesellschaft, bekannt die Auflegung des Schroder Sustainable Bond Fund, der Anlegern langfristige diversifizierte Renditen durch nachhaltige Anlagen über das gesamte Spektrum der globalen Rentenmärkte bieten soll. Das neue  Fund wird die nachhaltige und Impact-Fondspalette von Schroders weiter ausbauen.
Der vom Schroders Global Fixed Income and Currency Team verwaltete Fonds nutzt Schroders bewährten thematischen Top-down-Anlageprozess für festverzinsliche Wertpapiere, um sowohl in Staats- als auch in Unternehmensanleihen in Industrie- und Schwellenländern zu investieren.
Im Mittelpunkt der Strategie steht ein innovativer Ansatz zur Definition eines nachhaltigen Anlageuniversums von Märkten für Staatsanleihen. Zu den Zielländern für Investitionen gehören diejenigen, die angemessene Fortschritte bei der Erfüllung der Ziele der Vereinten Nationen für nachhaltige Entwicklung erzielen, diejenigen mit einer expliziten Netto-Null-Politik und diejenigen, deren politische und bürgerliche Freiheiten nachhaltiges Wachstum unterstützen.
Der Fonds wird sich auch auf die anerkannte Expertise von Schroders im Bereich nachhaltiger Kredite stützen und die unternehmenseigenen, preisgekröntes Anlagetool SustainEx, jetzt weiter verbessert, um staatliche und supranationale Emittenten sowie Unternehmen zu bewerten.
Ziel ist es, über einen Drei- bis Fünfjahreszyklus eine Gesamtrendite von 2,5 % pro Jahr über den dreimonatigen ICE BofA Sterling Government Bill-Index nach Abzug von Gebühren zu erzielen.
Paul Grainger, Head of Global Fixed Income and Currency, Schroders, kommentierte:
"Unsere Kunden fragen zunehmend nach nachhaltigen Anlagemöglichkeiten für die gesamte Palette ihrer Vermögenswerte, einschließlich Staatsanleihen und supranationaler Anleihen sowie Unternehmensanleihen und Aktien.
"Für den Schroder Sustainable Bond Fund haben wir eine rigorose und transparente Methode zur Analyse der Nachhaltigkeit von Staatsanleihen entwickelt. Dies ergänzt unseren etablierten Ansatz für nachhaltige Kredite und ermöglicht es uns, ganzheitliche Rentenportfolios aufzubauen, die unseren Kunden langfristige und diversifizierte nachhaltige Renditen bieten können."
Andy Howard, Head of Sustainability, Schroders, kommentierte ebenfalls:
"Unsere Kunden erkennen zunehmend, dass die potenziellen Auswirkungen von Nachhaltigkeitsrisiken und -chancen über die Unternehmenswelt hinausgehen. Dieser neue Fonds investiert nicht nur in Unternehmensanleihen, sondern berücksichtigt auch Staatsanleihen auf der Grundlage ihrer ESG-bezogenen Stärken und Chancen und erkennt die Schlüsselrolle an, die Regierungen bei der Gestaltung des Nachhaltigkeitspfads einzelner Länder spielen."
HAFTUNGSAUSSCHLUSS: Die deutsche Version dieser Pressemitteilung ist eine Übersetzung der Original-Pressemitteilung, die in englischer Sprache verfasst ist, und dient nur zu Informationszwecken. Im Falle einer Abweichung ist die englische Version dieser Pressemitteilung maßgebend.
PRESSEKONTAKT:
Estelle Bibby
Head of Media Relations
estelle.bibby@schroders.com
Phone
+44 20 7658 3431
Mobile
+44 7770 496 163
SOURCE: Schroders plc