30-8-2013 — /EuropaWire/ — Aviva, the UK's largest insurer and one of Europe's leading providers of life and general insurance partnered with climate and development experts ClimateCare, to develop a new way to measure and report the full impact of offsetting Aviva's carbon emissions through ClimateCare's 'Climate and Development' projects.
Now, for the first time, Aviva has been able to robustly measure and report on the additional benefits its carbon offset programmes have had on local communities using the LBG Framework – a peer reviewed methodology which quantifies and measures corporate community investment, developed with ClimateCare.
Although Aviva has been carbon neutral for many years, this new methodology reveals that in the last two years alone, Aviva's carbon offset programme has positively impacted the lives of more than 200,000 people through two projects – LifeStraw Carbon for Water in Kenya and Envirofit Efficient Stoves in India.
Zelda Bentham, Head of Environment and Climate Change at Aviva, said; "We have always been committed to offsetting our environmental impacts, but we also wanted to make sure our programmes delivered a broader community impact.
"Using this methodology we can demonstrate the full value of offsetting our carbon emissions. In the last two years we've offset 126,555 tonnes of carbon emissions through two environmental projects, and that's directly led to improvements in the lives of more than 200,000 people. It's what our customers and investors expect so it's really important we can credibly show this."
Since it was founded in 1997, ClimateCare has become a world leader in dual impact 'Climate and Development' projects, which both reduce emissions and deliver measurable improvements for local communities and the environment.
"All our projects measurably improve people's lives" explains ClimateCare Director, Edward Hanrahan, "Many, such as our efficient cookstove and water projects, which Aviva supports, are centred around people and vulnerable communities – providing safe water, improving health, creating jobs and stimulating local economies. Our clients see the value of taking an integrated approach to sustainability and we are always keen to help them talk about the full impacts of their actions in a robust and recognised way."
Aviva's carbon offset programmes:
In 2006 Aviva was the first global insurance group to offset its entire operational emissions and it remains carbon neutral. In recent years Aviva has worked closely with experts at ClimateCare to improve lives and protect the environment.
This has led to their support of two world leading projects:
1. LifeStraw Carbon for Water, Kenya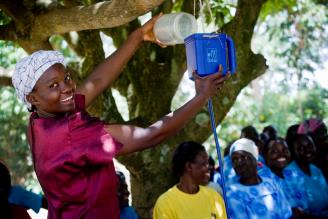 780 million people do not have access to safe drinking water globally and 17 million people in Kenya don't have access to safe drinking water. Many suffer from waterborne diseases such as diarrhoea – the third leading cause of death in Kenya.*
Aviva invested in this ground breaking project, which has distributed nearly 900,000 simple gravity fed water filters, removing the need to boil water on open fires. This saves money, reduces exposure to toxic fumes, carbon emissions and protects local forests.
2. Envirofit Efficient Stoves, India
In India 82% of the population cooks over a 3-stone open fire which is inefficient, smoky, and causes more than 480,000 deaths a year across the country. To solve this problem, Envirofit International, a clean energy social enterprise headquartered in the US, has invested in designing, testing, producing, and marketing, high quality clean energy cookstoves.
Envirofit's replacement cookstoves significantly impact both health and the environment, reducing toxic emissions up to 80%, climate change emissions CO2 up to 60%, and black carbon up to 40%. The stoves also generate savings for the consumer by reducing fuel consumption up to 60% and improve cooking efficiency up to 40%. Carbon offsetting helps to subsidise the price of this technology, to make clean energy cookstoves more affordable to families across India.
Measuring results
It is challenging and time consuming to measure and report the total number of people benefiting from any project and it is more challenging still to understand the depth and nature of those impacts. An added complication arises when trying to attribute impacts to the purchase of a specific volume of carbon reduction credits.
However in contrast to the majority of carbon reduction projects, many of ClimateCare's projects cut carbon emissions by working directly with individual households and families. For example, by providing them with water filters so they no longer have to boil water on open fires, or selling subsidised cookstoves that use less charcoal, the projects cut toxic emissions, improve health and create jobs, as well as protecting the environment.
In order to measure the carbon reductions generated through these types of project, regular on-the-ground monitoring is necessary. This makes it cost effective to carry out robust measurement of social impacts at the same time, and means ClimateCare's projects are ideal for organisations that want to deliver social impacts through their carbon reduction activity.
Developing the methodology
The LBG Framework is a peer reviewed methodology, which quantifies and measures corporate community investment. Already an LBG member, Aviva's carbon offset programme was the case study against which this new measurement framework was developed.
-Ends-
Notes to editors:
Aviva
Aviva provides 34 million customers with insurance, savings and investment products.
It is the UK's largest insurer and one of Europe's leading providers of life and general insurance.
Aviva is committed to serving our customers well in order to build a stronger, sustainable business, which makes a positive contribution to society, and for which our people are proud to work.
The Aviva media centre at www.aviva.com/media includes images, company and product information and a news release archive
For broadcast-standard video, please visit http://www.aviva.com/media/video/.
Follow us on twitter: www.twitter.com/avivaplc
ClimateCare
ClimateCare mobilises the power and scale of private finance to deliver projects with positive environmental and social impacts around the world. We combine the vision of a social enterprise and the commercial experience of an investment bank. Leveraging mainstream funding, we profitably deliver some of the largest, most successful corporate responsibility initiatives in the world.
From offices in Africa, Europe and Asia Pacific we help many of the world's leading brands, organisations and governments scale up the impact of their initiatives. By investing their resources in projects that directly combat climate change and poverty, improve health and increase community welfare, we build better futures for millions of people around the world.
Find out more at www.climatecare.org
LifeStraw® Carbon for Water project
In rural western Kenya, the health of local communities is at risk through drinking water containing microbiological contamination. Many residents suffer from waterborne diseases such as diarrhoea, which is the third leading cause of death among children and adults in Kenya, according the WHO.
To guard against this, the prevailing practice in rural Kenya is to boil drinking water with wood. Many families lack the resources to afford the wood, which is scarce and expensive if purchased.
This project distributed nearly 900,000 gravity-fed LifeStraw® water filters in rural Kenya, which means people no longer have to burn wood to boil and treat water. Each household is visited annually by staff from equipment supplier Vestergaard Frandsen, a company specialising in disease control products. Data on health and water treatment are recorded and geo-tagged through a smartphone app, and independently monitored as part of the voluntary Gold Standard.
Preliminary results from the first 18 months of operation show that the project is delivering safe water to 4.5 million people and is expected to cut two million tonnes of carbon dioxide a year (this is being verified by The Gold Standard).
Find out more about the project at www.carbonforwater.com
* WHO and UNICEF, 2012 update Joint Monitoring programme for Water Supply and Sanitation
India cookstoves, Envirofit
Traditionally, a large portion of the rural population of India has used inefficient cookstoves commonly known as chulas. Chulas produce substantial amount of greenhouse gas emissions as they rely on the burning of non renewable biomass (fuel wood).
India's domestic sector is one of its largest primary energy consumers with 75% of energy requirements met by fuel-wood and agricultural waste. Cooking alone is responsible for 90% of household energy consumption, and demand is increasing annually at a rate of 8.1%. As per the World Health Organization Comparative Risk Study, approximately 400,000 women and children die every year in India due to exposure to smoke from household use of solid fuels.
This initiative is undertaken by Envirofit, a non-profit organisation. The aim is to replace the inefficient, unhealthy and energy intensive traditional cookstoves with Envirofit Cookstoves (ECS).
ECS have been designed to achieve reduction in fuel consumption (non renewable biomass) and to improve the levels of indoor air pollution. The ECS result in better heat transfer and complete fuel combustion (avoiding smoke, black soot and particulate matter). The programme reduces non renewable biomass extraction by reducing fuel consumption and reduces GHG emissions of consumed fuel.
Press enquiries and image requests
Please contact:
Rhiannon Szmigielski, ClimateCare
Tel: +44 (0)1865 591000
Email: rhiannon.szmigielski@climatecare.org
Heleana Greeves, Aviva plc,
Senior Corporate Reputation Manager
Tel: +44 (0)207 662 0405
Email: Heleana.greeves@aviva.com