THE HAGUE, 15-Apr-2016 — /EuropaWire/ —
Terms of the Transaction:
Rating:   AAA(Stable) S&P / AAA (Stable) Fitch
Issue amount:  USD 500mn
Pricing Date:  12 April 2016
Maturity Date: 18 April 2019
Coupon:  3m USD Libor +32bps
Format:  Floating rate note / RegS
Re-offer Price: 100%
ISIN:   XS1396344621
Lead Managers: Daiwa Capital Markets, HSBC, J.P. Morgan, Rabobank
For more information about FMO, please visit: www.fmo.nl/investor-relations
Transaction Highlights:
• On Monday 12th April 2016, the Nederlandse Financierings-Maatschappij voor Ontwikkelingslanden N.V. (FMO), the Dutch Development Bank rated AAA by S&P and AAA  by Fitch, launched and priced its new USD 500 million 3-year RegS FRN transaction, the issuer's first transaction of 2016.
• With a strong and receptive USD market throughout the previous sessions and investors looking for further quality agency paper, FMO announced its USD 500 million capped transaction on Monday 11th April 2016 at 12.00 London time with Initial Price Thoughts ("IPTs") of 3m$L +35 area.
• With Indications of Interest ("IOIs") of highest quality exceeding USD 600 million, books were officially opened on Tuesday London morning at 3m$L +34 area.
• With further strong momentum books approached the USD 1 billion mark quickly.  Given the high quality of the book, limited price sensitivity and the maximum size of USD 500 million the spread was fixed at 3m$L +32 bps by 09.20 am London time.
• Final books surpassed USD 900 million, and the USD 500 million transaction priced at the final guidance of 3m$L +32bps, at 13.45 London time.
Distribution
• Over 35 investors participated, highlighting the broad support for FMO and the growing interest of investors for the high quality Dutch credit, especially taking into account the long-term commitment and strong financial backing of the Dutch State to FMO.
• Participation was spread across time zones, though Europe overall denominated with a total of 38%, followed by the Middle East & Africa at 35%, the Americas at 16% and Asia at 11%.  The distribution balanced across the various types of investors, with the clear majority of 60% taken up by Central Banks/ Official Institutions, the various types of banks totaling 35% and Asset/ Fund Managers 5%.
      Investor demand by type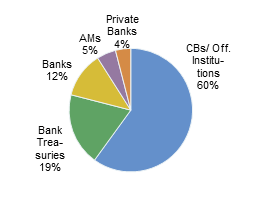 Investor demand by region  
Daiwa Capital Markets, HSBC, J.P. Morgan and Rabobank acted as joint-book runners on this USD transaction.
About FMO
FMO is the Dutch development bank. FMO has invested in the private sector in developing countries and emerging markets for more than 46 years.  FMO is 51% government owned, with strong government support via its support agreement with the Dutch state.
For further details please contact: Matthijs Pinxteren (Director Treasury) Tel +31 70 314 95 75 E-mail m.pinxteren@fmo.nl
Arthur Leijgraaff (Senior Treasury Officer) Tel +31 70 314 98 52 E-mail a.leijgraaff@fmo.nl