Heerbrugg, Switzerland, San Ramon, CA, 4-9-2014 — /EuropaWire/ — With Leica Cyclone 9.0, the industry leading point cloud solution for processing laser scan data, Leica Geosystems HDS introduces major, patent-pending innovations for greater project efficiency. Innovations benefit both field and office via significantly faster, easier scan registration, plus quicker deliverable creation thanks to better 2D and 3D drafting tools and steel modelling. Cyclone 9.0 allows users to scale easily for larger, more complex projects while ensuring high quality deliverables consistently.
Greatest advancement in office scan registration since cloud-to-cloud registration
When Leica Geosystems pioneered cloud-to-cloud registration, it enabled users – for the first time – to accurately execute laser scanning projects without having to physically place special targets around the scene, scan them, and model them in the office. With cloud-to-cloud registration software, users take advantage of overlaps among scans to register them together.
"The cloud-to-cloud registration approach has delivered significant logistical benefits onsite and time savings for many projects. We've constantly improved it, but the new Automatic Scan Alignment  and Visual Registration capabilities in Cyclone 9.0 represent the biggest advancement in cloud-to-cloud registration since we introduced it," explained Dr. Chris Thewalt, VP Laser Scanning Software. "Cyclone 9.0 lets users benefit from targetless scanning more often by performing the critical scan registration step far more efficiently in the office for many projects. As users increase the size and scope of their scanning projects, Cyclone 9.0 pays even bigger dividends. Any user who registers laser scan data will find great value in these capabilities."
With the push of a button, Cyclone 9.0 automatically processes scans, and digital images if available, to create groups of overlapping scans that are initially aligned to each other. Once scan alignment is completed, algorithmic registration is applied for final registration. This new workflow option can be used in conjunction with target registration methods as well. These combined capabilities not only make the most challenging registration scenarios feasible, but also exponentially faster. Even novice users will appreciate their ease-of-use and ready scalability beyond small projects.
Power user Marta Wren, technical specialist at Plowman Craven Associates (PCA – leading UK chartered surveying firm) found that Cyclone 9.0's Visual Registration tools alone sped up registration processing of scans by up to four times (4X) faster than previous methods. PCA uses laser scanning for civil infrastructure, commercial property, forensics, entertainment, and Building Information Modelling (BIM) applications.
New intuitive 2D and 3D drafting from laser scans
For civil applications, new roadway alignment drafting tools let users import LandXML-based roadway alignments or use simple polylines imported or created in Cyclone. These tools allow users to easily create cross section templates using feature codes, as well as copy them to the next station and visually adjust them to fit roadway conditions at the new location. A new vertical exaggeration tool in Cyclone 9.0 allows users to clearly see subtle changes in elevation; linework created between cross sections along the roadway can be used as breaklines for surface meshing or for 2D maps and drawings in other applications.
For 2D drafting of forensic scenes, building and BIM workflows, a new Quick Slice tool streamlines the process of creating a 2D sketch plane for drafting items, such as building footprints and sections, into just one step. A user only needs to pick one or two points on the face of a building to get started. This tool can also be used to quickly analyse the quality of registrations by visually checking where point clouds overlap.
Also included in Cyclone 9.0 are powerful, automatic point extraction features first introduced in Cyclone II TOPO and Leica CloudWorx. These include efficient SmartPicks for automatically finding bottom, top, and tie point locations and Points-on-a-Grid for automatically placing up to a thousand scan survey points on a grid for ground surfaces or building faces.
Simplified steel fitting of laser scan data
For plant, civil, building and BIM applications, Cyclone 9.0 also introduces a patent-pending innovation for modelling steel from point cloud data more quickly and easily. Unlike time consuming methods that require either processing an entire available cloud to fit a steel shape or isolating a cloud section before fitting, this new tool lets users to quickly and accurately model specific steel elements directly within congested point clouds. Users only need to make two picks along a steel member to model it. Shapes include wide flange, channel, angle, tee, and rectangular tube shapes.
Faster path to deliverables
Leica Cyclone 9.0 also provides users with valuable, new capabilities for faster creation of deliverables for civil, architectural, BIM, plant, and forensic scene documentation from laser scans and High-Definition Surveying™ (HDS™).
Availability
Leica Cyclone 9.0 is available today. Further information about the Leica Cyclone family of products can be found at http://hds.leica-geosystems.com, and users may download new product versions online from this website or their myWorld account or may order directly from an authorised Leica Geosystems representative.
For more information please visit: http://www.leica-geosystems.com/cyclone
Leica Cyclone 9.0 will be demonstrated at Intergeo 2014! Learn more about Leica Geosystems innovative solutions from 7-9 October in Berlin, Hall 1.1 Booth A1.024 !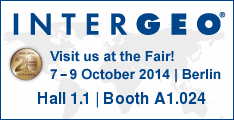 Leica Geosystems – when it has to be right
With close to 200 years of experience pioneering solutions to measure the world, Leica Geosystems products and services are trusted by professionals worldwide to help them capture, analyze, and present spatial information. Leica Geosystems is best known for its broad array of products that capture accurately, model quickly, analyze easily, and visualize and present spatial information.
Those who use Leica Geosystems products every day trust them for their dependability, the value they deliver, and the superior customer support. Based in Heerbrugg, Switzerland, Leica Geosystems is a global company with tens of thousands of customers supported by more than 3,800 employees in 33 countries and hundreds of partners located in more than 120 countries around the world. Leica Geosystems is part of Hexagon, Sweden.
Contact:
Agnes Zeiner
Director Marketing Communications
Leica Geosystems AG
CH-9435 Heerbrugg
Switzerland
Tel: +41 71 727 3131
E-Mail: agnes.zeiner@leica-geosystems.com
###