LONDON, 13-Jul-2016 — /EuropaWire/ — In a one-off special GfK Consumer Confidence Barometer (CCB) to measure post-referendum sentiment, the core Index has fallen 8 points to -9. All of the key measures used to calculate the Index have fallen. This long-running survey dates back to 1974, and there has not been a sharper drop than this for 21 years (December 1994).
Splitting the core Index result by how people said they voted in the referendum, Remainers were at -13, versus Leavers who were more optimistic at -5. The survey was run from 30 June to 5 July to capture the mood of consumers immediately after the Brexit decision on 24 June.
Joe Staton, Head of Market Dynamics at GfK, says: "In these extraordinary times this one-off CCB Brexit Special gauges the temperature of consumer confidence right now. During this period of uncertainty, we've seen a very significant drop in confidence, as is clear from the fact that every one of our key measures has fallen, with the biggest decrease occurring in the outlook for the general economic situation in the next 12 months."
The results reveal consumer concerns about the economic outlook. Six in 10 (60 percent) expect the general economic situation to worsen in the next 12 months, up from 46 percent in June. Only 20 percent of consumers expect it to improve, down from 27 percent in June. The proportion of people who believe prices will increase rapidly in the next 12 months has jumped 20 percentage points from 13 percent to 33 percent.Regional, age and income analysis from the Brexit special:
Measure
Movement
Brexit special July 2016
June 2016
June 2015
Overall Index score
down 8
-9
-1
7
Personal financial situation over last 12 months
down 3
3
6
4
Personal financial situation over next 12 months
down 6
2
8
5
General economic situation over last 12 months
down 6
-19
-13
4
General economic situation over next 12 months
down 15
-29
-14
4
Major purchase index
down 12
-3
9
16
Savings Index
(not part of overall Index score)
up 4
9
5
4
View the data charts for each measure
There are distinct differences in how confidence has changed regionally.
In the north of England, confidence has dropped 19 points and in Scotland it has fallen 11 points. In the south (including London), there has been a 2-point drop.
Amongst the young (16-29 year olds) confidence has dropped 13 points, but this group remains the most optimistic of all age groups.
The biggest drop in confidence, from an income perspective, is a fall of 16 points among households with income levels of £25,000-£49,999
"Our analysis suggests that in the immediate aftermath of the referendum, sectors like travel, fashion and lifestyle, home, living, DIY and grocery are particularly vulnerable to consumers cutting back their discretionary spending. As we've learnt from previous periods of uncertainty, consumers turn to well-known brands they love and trust as a guarantee of quality and value for money. Now is the time for companies to understand and respond to consumer concerns by anticipating and meeting their needs."
Full-findings data tables from the Consumer Confidence Barometer Brexit Special are available exclusively from GfK for £950 (inclusive)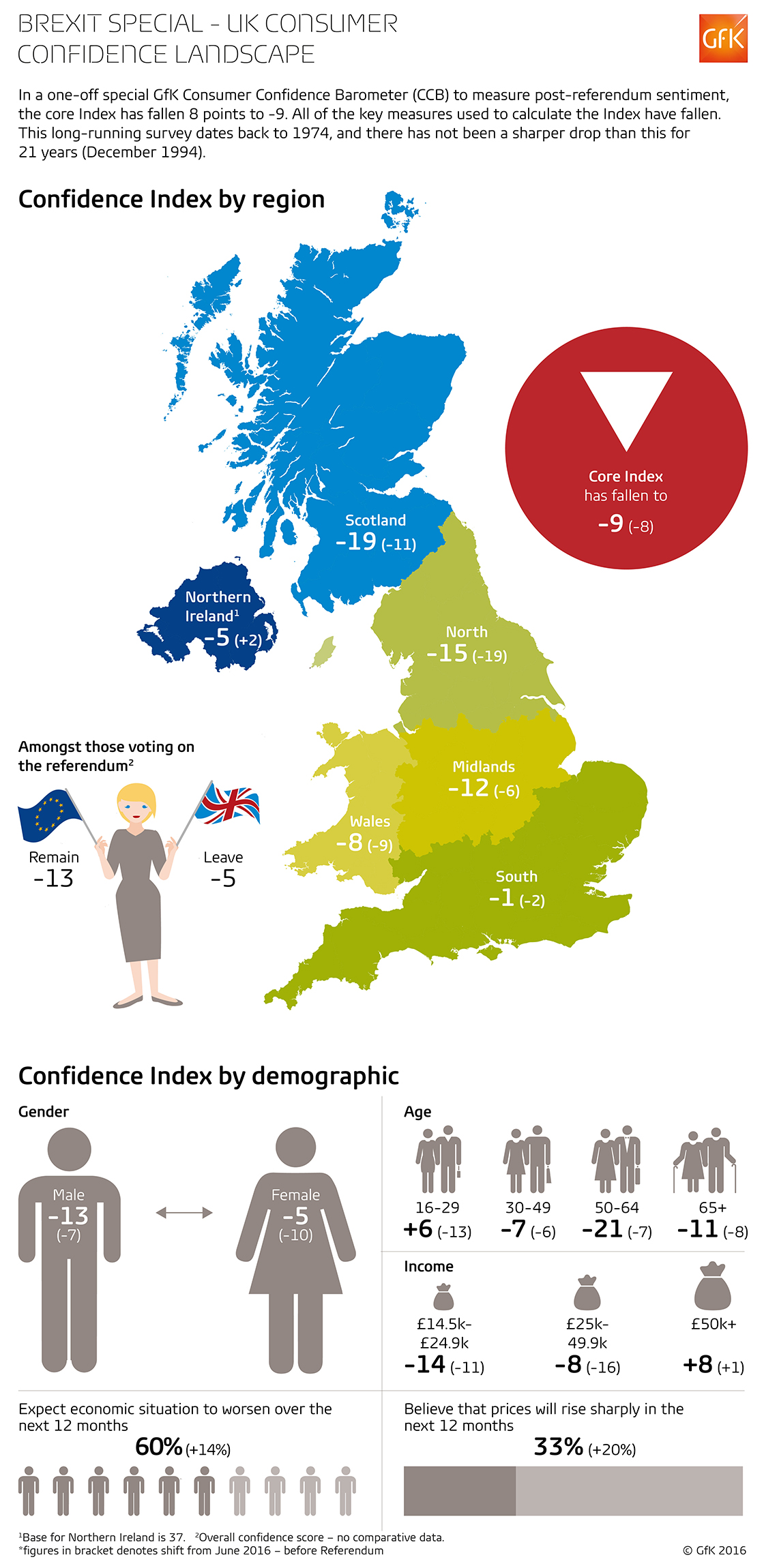 About the survey
Any published material must be referenced as "Source: GfK"
GfK ran this one-off Brexit special online with 2002 respondents
Quotas are imposed on age, sex, region and social class to ensure the final sample is representative of the UK population.
Interviewing was carried out during 30th June and 5th July 2016
The figures contained within the Consumer Confidence Barometer have an estimated margin of error of +/-2 percent.
Results for the regular monthly Consumer Confidence Barometer are normally available on the last working day of each month at 00.05am; the release date for July 2016 is Friday 29th July 2016.
This study has been running since 1974. Back data is available from 1996.
Public Relations
+49 911 395 4440
Contact us via Email