BREMEN, 13-Dec-2016 — /EuropaWire/ — Change of managing directors in Bremerhaven and Hamburg: Peter Zielinski, Managing Director at EUROGATE Container Terminal Hamburg since 1999, is retiring on 31.12.2016. The new man taking over from him at the Hamburg Terminal is his Bremerhaven colleague Wolfgang Schiemann, who is returning to the Elbe after 12 years away. Wolfgang Schiemann will for his part hand over the reins of EUROGATE Container Terminal Bremerhaven to the present operations manager Manuela Drews from 1 January 2017.
Only last year, he celebrated his 25th company anniversary at EUROGATE; now Peter Zielinski, EUROGATE Container Terminal Hamburg GmbH's long-serving Managing Director, is heading off to his well-earned retirement. Born in Hanover in 1951, Zielinski has had an eventful career that has been strongly influenced by shipping. After his school education, he began his maritime vocational training with the Bremen-based break-bulk and heavy-lift carrier DDG Hansa. He subsequently advanced into the management of the American container shipping line United States Lines, where for eight years he held various positions at home and abroad. After several years at the helm of the company's own container terminal in Fos, near Marseilles, France, he joined EUROKAI in Hamburg as assistant to the operations manager. In 1995, he was promoted to operations manager. Following the establishment of the EUROGATE joint venture, he was appointed Managing Director of EUROGATE Container Terminal Hamburg in 1999.
He is succeeded by no stranger to the Elbe. Wolfgang Schiemann, born in 1955, was operations manager at EUROGATE Container Terminal Hamburg from 2000 to 2004. In July 2004, he was appointed Managing Director at EUROGATE Container Terminal Bremerhaven. Schiemann is also an experienced seafarer. Born in Wismar, he went to sea at the age of 17 and started his vocational training as a sailor in Rostock on ships belonging to the then state shipping line DSR. Following his training as a nautical officer and his active service in merchant shipping, he served at the seaport of Rostock and with the Ministry of Transport in the former GDR. After German reunification, he moved to Hamburg and joined EUROKAI, where he became operations manager at EUROGATE Container Terminal Hamburg in 2000.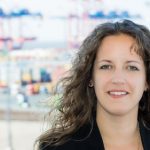 Manuela Drews, born in 1978, has been operations manager and authorised representative at EUROGATE Container Terminal Bremerhaven since April 2010. After graduating as an industrial engineer at the University of Applied Sciences in Emden, with semesters abroad in Groningen (Netherlands) and Leicester (UK), she joined the EUROGATE Group as a junior manager on the trainee programme in 2003. In January 2008, she started at EUROGATE Container Terminal Bremerhaven as Head of Operations. In addition to her responsibilities as operations manager, Manuela Drews is also a customs agent and a member of the board of the Bremerhaven Port Tunnel Association.
SOURCE: EUROGATE