(PRESSEMITTEILUNG) LIVERPOOL, 31-Jan-2022 — /EuropaWire/ — Die University of Liverpool, eine öffentliche Forschungsuniversität, hat bekannt gegeben, dass ihre School of Architecture veranstaltet ab morgen eine Ausstellung, die den verkörperten Kohlenstoff einiger der gängigsten zeitgenössischen Baumaterialien untersucht (1. Februar) und läuft bis Ende Mai 2022.
Carbon Counts ist ein Konzept der Feilden Clegg Bradley (FCB) Studios, die seit über 40 Jahren an der Spitze der kohlenstoffarmen Architektur stehen fasst Schlüsselmetriken für zehn Materialien zusammen – darunter Stahl, Aluminium, Beton und Holz – um die jeweiligen CO2-Auswirkungen zu veranschaulichen.
Verkörperter Kohlenstoff ist der Kohlenstoff, der bei den Prozessen emittiert wird, die an der Herstellung dieser Materialien beteiligt sind: bei der Gewinnung, Verarbeitung, Herstellung und Verpackung der Materialien; deren Transport und Aufbau vor Ort; Wartung über ihre Lebensdauer; und was mit ihnen nach dem Abriss des Gebäudes passiert.
Die Ausstellung wird dank einer Zusammenarbeit zwischen FCB Studios, der Liverpool School of Architecture und LSA Climate Crisis – der studentischen Klimaschutzgruppe der Schule – mit Unterstützung der University of Liverpool und der School of the Arts.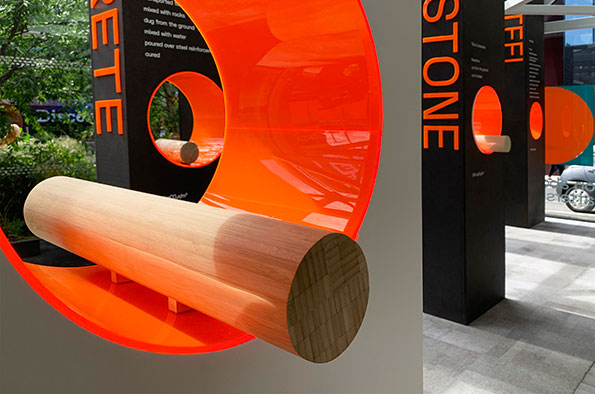 LSA Climate Crisis arbeitet daran, das Bewusstsein für die Umweltauswirkungen der Bauindustrie zu schärfen und dafür, wie Architektur durch bewusstes Design eine Schlüsselrolle bei der Eindämmung des Klimawandels spielen kann. Durch die Zusammenarbeit mit den FCB Studios und der School of Architecture, um diese Ausstellung nach Liverpool zu bringen, wird die Gruppe ein greifbares Erlebnis für Studenten und Mitarbeiter bieten, das die Aufmerksamkeit auf die Kohlenstoffauswirkungen von Materialien lenkt, die üblicherweise im Bauwesen verwendet werden.
Jamie Hole, MArch-Student im Abschlussjahr und Mitglied von LSA Climate Crisis, kommentierte: "Diese Ausstellung ist eine unglaublich aufschlussreiche Erfahrung für uns Studenten, um die Auswirkungen von Materialien zu verstehen, die so häufig in unserer Designarbeit und der Industrie verwendet werden.
"Darüber hinaus ermöglicht es uns, unsere Entwürfe mit größerer Berücksichtigung der von uns getroffenen Materialauswahl zu reflektieren und uns eine nachhaltigere gebaute Umwelt vorzustellen."
Leiter der School of Architecture, Professor Ola Uduku, sagte: "Wir freuen uns, die Ausstellung Carbon Counts in der LSA auszurichten. Als Schule engagieren wir uns für die Unterstützung von Nachhaltigkeitsinitiativen im architektonischen Design: Unsere von Schülern geleitete LSA-Klimakrisengruppe war in letzter Zeit am Klimaaktivismus beteiligt und nahm an der COP26-Konferenz in Glasgow teil.
"Die Ausrichtung dieser Ausstellung trägt weiter zu unserem Engagement für die Sache der Nachhaltigkeit bei und ermöglicht es uns, die Diskussion und Auseinandersetzung mit diesem globalen Thema unserer Zeit zu fördern."
Durch das Verständnis, wie der verkörperte und emittierte Kohlenstoff während des Baus und des Lebenszyklus eines Gebäudes gemessen werden kann, sind Architekten in der Lage, fundiertere Entscheidungen zu treffen, um die Auswirkungen von Gebäuden auf die Umwelt zu verbessern.
Die Ausstellung selbst wurde so konzipiert, dass sie eine geringe Umweltbelastung hat und gleichzeitig eine starke visuelle Präsenz und Langlebigkeit gewährleistet.
Hohe "Totems" aus recyceltem Holz beherbergen eine Probe jedes Materials in leuchtenden Acrylröhren. Die Größe jeder Materialprobe ist unterschiedlich und entspricht genau 1 kg CO2 , das bei der Herstellung freigesetzt wird.
Neben der Ausstellung gibt es eine Website , die die Auswirkungen der Materialwahl detaillierter vergleicht und die Prozesse beschreibt, die sie von der Wiege an durchlaufen zum Tor'.
Die Ausstellung Carbon Counts wird vom 1. Februar bis Mai 2022 an der Liverpool School of Architecture, University of Liverpool, 25 Abercromby Square, L69 7ZN (Eingang über Bedford Street) gezeigt. Eintritt ist gratis. Die Öffnungszeiten sind wochentags von 10:00 bis 16:00 Uhr (andere Zeiten nur nach Vereinbarung). Weitere Informationen erhalten Sie von lsaevent@liverpool.ac.uk.
HAFTUNGSAUSSCHLUSS: Die deutsche Version dieser Pressemitteilung ist eine Übersetzung der Original-Pressemitteilung, die in englischer Sprache verfasst ist, und dient nur zu Informationszwecken. Im Falle einer Abweichung ist die englische Version dieser Pressemitteilung maßgebend.
PRESSEKONTAKT:
Simon Wood
Media Relations Manager
T: +44 (0)7788324429
E: simon.wood@liverpool.ac.uk
SOURCE: University of Liverpool