Borouge ist ein wichtiger Motor für das industrielle Wachstum und die Diversifizierungsstrategie der Vereinigten Arabischen Emirate, indem es lokale Industrielieferketten unterstützt und Polyolefinlösungen für Kunden auf der ganzen Welt liefert.
Ein weiterer wichtiger Meilenstein auf der Wachstumsreise von Borouge nach der vor kurzem getroffenen endgültigen Investitionsentscheidung für Borouge 4
Mit der neuen Anlage erweitert Borouge seine Polypropylen (PP)-Kapazität um mehr als 25 %, um die weltweit steigende Nachfrage nach Produkten wie Haushaltsverpackungen und Infrastrukturanwendungen zu decken.
PP5 wird Produkte herstellen, die vielseitig einsetzbar und leicht recycelbar sind.

30% aller in PP5 installierten Anlagen sind "Made in UAE"; der Gesamtwert des "In-Country-Value (ICV)"-Programms lag während der Bauphase bei insgesamt 61%.
(PRESS RELEASE) ABU DHABI, Vereinigte Arabische Emirate, 25-Feb-2022 — /EuropaWire/ — Borealis, ein österreichisches Chemieunternehmen, das in den Bereichen Polyolefine, Basischemikalien und Düngemittel tätig ist, hat bekannt gegeben, dass die neue fünfte Polypropylen-Anlage (PP5) in Ruwais, Vereinigte Arabische Emirate, erfolgreich von Borouge, einem Joint Venture zwischen ADNOC, der staatlichen Ölgesellschaft der Vereinigten Arabischen Emirate und Borealis. Borouge bietet innovative, wertschöpfende Polyolefinlösungen und die neue Einheit wird dazu beitragen, die Produktion von Polypropylen in den Vereinigten Arabischen Emiraten anzukurbeln, um die wachsende weltweite Nachfrage nach Fertigprodukten in den Bereichen recycelbare fortschrittliche Verpackungen, Infrastruktur und andere Industriesektoren zu befriedigen.
Hazeem Sultan Al Suwaidi, Vorstandsvorsitzender (CEO) der Abu Dhabi Polymers Company (Borouge), erklärt: "Dies ist ein weiterer Meilenstein auf der Wachstumsreise von Borouge und im Rahmen des Ausbaus von Ruwais zu einem dynamischen, globalen Drehkreuz für Downstream-Aktivitäten, der das langfristige industrielle Wachstum und die wirtschaftliche Diversifizierung der Vereinigten Arabischen Emirate unterstützt. Unsere PP5-Anlage wird es uns ermöglichen, die steigende Nachfrage unserer Kunden nach Polypropylenlösungen zu bedienen, insbesondere in den Bereichen Verpackung und Infrastruktur in unseren Schlüsselmärkten im Nahen Osten, Asien und Afrika."
Die im Borouge 3-Komplex errichtete PP5-Anlage stellt einen wichtigen Meilenstein für Borouges Wachstumsstrategie 2030 dar. Die neue Anlage wird jährlich 480.000 Tonnen produzieren und dazu beitragen, die Polypropylen-Produktionskapazität von Borouge um mehr als 25 % auf 2,24 Millionen Tonnen pro Jahr und die Polymer-Gesamtkapazität für Polyolefine um 11 % von 4,5 auf 5 Millionen Tonnen pro Jahr auszubauen. Die neue Anlage kann Rohstoffe für die Produktion so vieler Rohre liefern, wie für die Wasserversorgungsnetze von 6.500 Burj Khalifas benötigt werden würden. Die Inbetriebnahme von PP5 erfolgt unmittelbar nach der Bekanntgabe der endgültigen Investitionsentscheidung für die Erweiterung von Borouge 4, mit der Borouges Produktionsstandort in Abu Dhabi zum weltweit größten Single-Site-Polyolefinkomplex wird.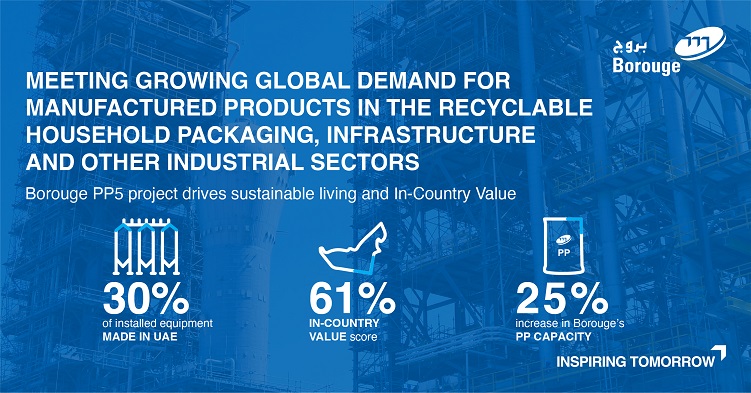 Rainer Höfling, CEO Borouge Pte, erklärt: "Wir arbeiten eng mit unseren Kunden und Partnern entlang der gesamten Wertschöpfungskette zusammen, um sie dabei zu unterstützen, ihre Kreislaufwirtschaftsziele durch verschiedene Initiativen zu erreichen. Dazu gehört die Entwicklung von Monomaterial-Verpackungslösungen, die auf Recyclingfähigkeit ausgelegt sind. Durch die Nutzung der Borstar®-Technologie werden wir Lösungen anbieten können, die unseren Kunden Gesamtkostenvorteile durch beispiellose Zykluszeitverbesserungen, reduzierten Verzug, sowie Energieeffizienz ermöglichen werden."
Die Nachfrage nach Produkten auf Polypropylenbasis wird in den kommenden Jahrzehnten weiter steigen, da dieses Material vielseitig einsetzbar und leicht recycelbar ist. Die neue PP5-Anlage wird Borouges Angebot an nachhaltigen, innovativen und differenzierten Produkten stärken, um dieser wachsenden Nachfrage gerecht zu werden. Polypropylen wird von Kunden und Partnern entlang der gesamten Wertschöpfungskette zur Herstellung wiederverwertbarer Verpackungen und zur Entwicklung von widerstandsfähigen, langlebigen und leichten Rohren für den Infrastruktursektor verwendet werden.
PP5 unterstützt die Programme "In-Country-Value" und "Make It In the Emirates" der Vereinigten Arabischen Emirate
Borouges PP5-Projekt hat einen "In-Country-Value"-Score von 61% erzielt. Dieser gibt den Anteil der Beschaffung von Unternehmen in den Vereinigten Arabischen Emiraten sowie den "Made in UAE"-Anteil an. Sämtliche Stahlkonstruktionen, Rohrleitungen und Formstücke wurden dabei im Inland gekauft, insgesamt 30 % aller installierten Anlagen wurden in den Vereinigten Arabischen Emiraten hergestellt, und alle Subunternehmerleistungen wurden auf dem lokalen Markt beschafft.
Borouge ist stolz darauf, die neue 10-Jahres-Strategie, die vom Ministerium für Industrie und fortschrittliche Technologie (MoIAT) umgesetzt wird, unterstützen zu können. Das Unternehmen hat sich dazu verpflichtet, eine Schlüsselrolle bei der Realisierung einer nachhaltigen wirtschaftlichen Entwicklung in den Vereinigten Arabischen Emiraten einzunehmen und neue Möglichkeiten für "Make It In The Emirates" zu erschließen.
Der Bau der PP5-Anlage begann im Dezember 2018 und wurde während der globalen COVID-19-Pandemie erfolgreich abgeschlossen. Mehr als 100 Mitarbeiterinnen und Mitarbeiter von Borouge und über 4.000 Auftragnehmer waren an diesem Projekt beteiligt. Die Bauarbeiten wurden sicher und im Zeitplan durchgeführt, wobei mehr als 24 Millionen Arbeitsstunden ohne Sicherheitsvorfälle verzeichnet wurden. Ende 2021 wurde die Anlage schließlich in Betrieb genommen.
ENDE
Über Borouge
Borouge, ein Joint Venture von ADNOC und Borealis, ist ein führendes Petrochemieunternehmen, das innovative Kunststofflösungen für die Bereiche Energie, Infrastruktur, Mobilität, Verpackungen sowie für das Gesundheitswesen und die Agrarindustrie liefert. Mit der Fertigstellung der vierten Ausbaustufe im Weltmaßstab wird Borouge bis zum Jahr 2025
zum größten Single-Site-Polyolefinkomplex der Welt anwachsen und eine Produktionskapazität von 6,4 Millionen Tonnen pro Jahr aufweisen.
borouge.com
Für weitere Informationen wenden Sie sich bitte an:
Borouge: REHAB OMAR ATEEQ, Vice President Global Communications, Borouge
T +971 2 708 0807, Rehab.Ateeq@borouge.com (Englisch, Arabisch)
Borealis: VIRGINIA WIESER, Senior Manager, Corporate Communications, Brand & Reputation
T +43 1 22 400 772, Virginia.Wieser@borealisgroup.com (Deutsch, Englisch)
SOURCE: Borealis AG