Toulouse, France, 06-Apr-2016 — /EuropaWire/ — Airbus Defence and Space is partnering with the French and European space agencies (CNES and ESA*) to organise ActInSpace.
ActInSpace is a 24-hour contest where anyone can join a team and meet challenges such as 'Design an application to see how your city changes in real time', 'Devise new services to assist the elderly or disabled', or 'Improve the handling of natural disasters'.
The contest will take place on 20 and 21 May 2016 in about 30 cities across Europe, as well as one in Morocco and one in Brazil.
Win great prizes such as a zero-gravity flight on board the Airbus A300 ZERO-G, a trip to Kourou in French Guiana to live a rocket launch, a meeting with an Astronaut or a 100.000€1voucher to order satellite data (Imagery, Elevation Model,…).

Space up your life and take part!
If you would like to take up the challenge, sign up here:
http://www.actinspace.org/en/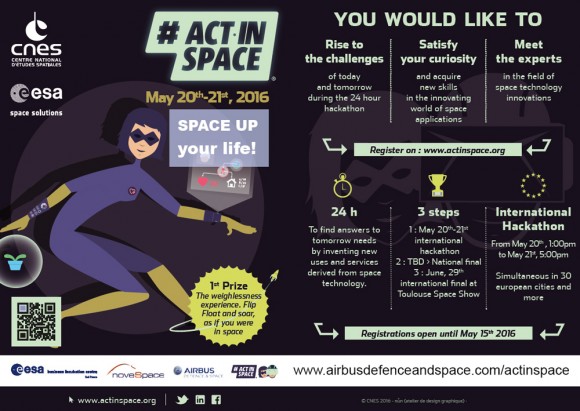 Inspired by the first 'Space Hackathon' organised by NASA, this dynamic contest is open to a wide audience and various benefits are expected showing that Space:
Brings a better life on Earth in a lot of areas (ex: monitoring of climate/environment, help for disabled people, new telecommunication/navigation services…)
Directly promotes economic development and entrepreneurship (ex: 4 start-up have been created in the frame of the first edition of the challenge)
Drives innovation with "team-spirit", especially among young people
Follow us @AirbusDS
Follow the event on Twitter:  with #ActInSpace and @ActInSpace
* including the ESA Business Incubation Centres
1 This voucher is valid until 29/06/2017. It may be spent in various instalment and shall be govern by Airbus DS General Supply Conditions available at http://www.geo-airbusds.com/en/886-legal-documents-and-supply-conditions.