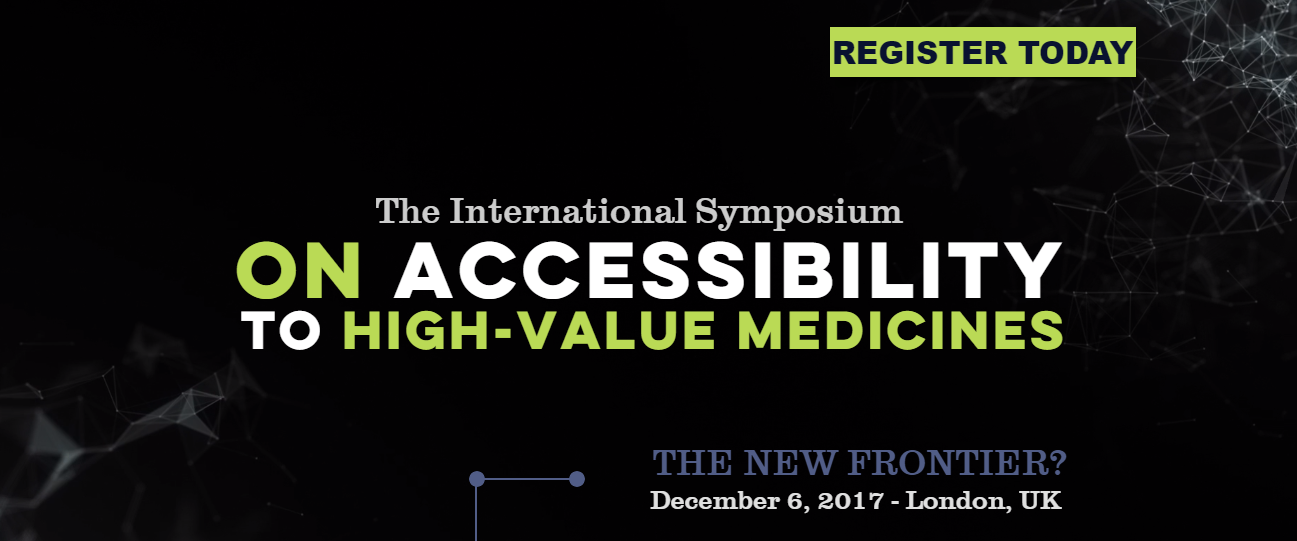 LONDON, 01-Dec-2017 — /EuropaWire/ — On December 5-6, 2017, 200 high-level experts from government, academia, biopharmaceutical developers and patient organisations convene in London (UK) to address the mounting challenge of accessibility and patient access to high-value, high-cost medical therapies.
The not-for-profit executive forum is organised by the London School of Hygiene and Tropical Medicine and analytica|LASER, a global research consultancy, to investigate topical questions around drug policy, global health systems sustainability and innovation funding through a combination of case studies, panel sessions, and roundtables. Delegations are registered from over 70 public and private organisations, including the World Health Organization, as well as health systems representatives from Belgium, England, Estonia, Croatia, France, Germany, Italy, Norway, Sweden, the United States and Wales. Multiple patient organisations support the meeting to ensure that the patient voice is reflected in all deliberations.
"Access to life-saving drugs is not a new challenge. The paradigm of accessibility was changed completely in the face of the deadly HIV epidemic. This time, however, accessibility concerns almost every domain of medicine such as cancer, auto-immune diseases and rare diseases. We must act now," says Prof Peter Piot, Director of the London School of Hygiene & Tropical Medicine and former head of UNAIDS.
"There is an incredible challenge for the sustainability of health systems across the world", says Prof. Lucien Abenhaim, London School of Hygiene & Tropical Medicine and Chairman of Analytica Laser. "It is critical that drug developers and health system engage on actionable proposals that address concerns around value, cost and overall access to innovation for the patients who need it. We are at an inflection point – the paradigms of the 1990's can no longer guide us," he adds.
Yann Le Cam, CEO of EURORDIS-Rare Diseases Europe, an alliance of over 700 rare disease patient organisations, commented, "The majority of people living with a rare disease have delayed or no access to the medicine they need. Only through a collective engagement between all stakeholders involved, including industry, competent authorities, health ministries, academics and regulators, can we break the access deadlock." Le Cam will be presenting a new four-pillar approach to improve access to rare disease therapies in Europe.
The main plenary on December 6th features scheduled remarks by over a dozen authorities in the field, including Professor Baron Peter Piot (Director, London School of Hygiene & Tropical Medicine and former Head, UNAIDS), Dr. Olivier Brandicourt (Chief Executive Officer, Sanofi), Dr. Sarah Garner (World Health Organization), Prof. Dominique Le Guludec (President, French HAS), Sir Andrew Dillon (Chief Executive, National Institute for Health and Care Excellence UK) and Dr. Harold Paz (Chief Medical Officer, Aetna). The plenary is preceded by a scientific seminar on December 5th which gathers globally renowned academics to explore new frontiers on the methodology for the appraisal and valuation of high-value medicines.
Please contact the organisers for more information on the programming and media access, or refer to www.accessibility-symposium.org
About:
The not-for-profit event is organised by the London School of Hygiene & Tropical Medicine with analytica|LASER, and will be held at the Renaissance St Pancras Hotel, London, UK.
Media contacts:
Julia Corner
Press Liaison and Project Manager,
International Symposium on the Accessibility to High-Value Medicine
jcorner@accessibility-symposium.org
+44 (0) 20 3137 5800
Downloads:
Logos: