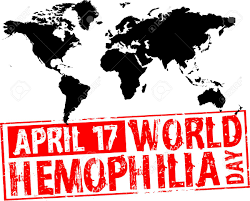 March is Hemophilia Awareness Month and April 17 is International Hemophilia Day
LUXEMBOURG, 06-Mar-2017 — /EuropaWire/ — Hemophilia is a devastating inherited blood disorder that can still cause severe pain, crippling and even death, when untreated.
Hemophilia patients in developed countries can more easily access the medicine they need to help their blood clot. Though prohibitively expensive, government subsidies and insurance help many patients afford their care.
In developing countries the story is not the same. Because hemophilia is a rare disorder (1 in every 5,000), governments and social agencies tend not to purchase clotting factor. Patients must depend on donations, which may or may not be available when a life threatening bleed happens.
For people living in poverty, the burden of a bleeding disorder is magnified. Not only is accessing clotting factor close to impossible, they often struggle to afford public transportation to the hospital to get help, or to buy ice, bandages or painkillers to bring some relief.
Save One Life is a US based nonprofit organisation that offers sponsorship directly to individual children and youth with bleeding disorders in 13 developing countries. Funds are used to help with transportation, pain management, food and education.
Save One Life believes that families with hemophilia in wealthier countries -with better resources and adequate healthcare- are willing to help once they understand the suffering of people with hemophilia in developing countries.
A sponsorship costs around 20 Euro (= 22 $) a month. Today more than 400 sponsors around the world share the same belief, compassion and resources with more than 1200 sponsored families. However, much more is needed to help people with hemophilia worldwide.
As a parent of two sons with hemophilia and wife of a European official living near Luxembourg, my goal is to help Save One Life gain more support from the hemophilia community in Europe.
QUICK FACTS
Save one Life
– works in 13 countries
– has a sponsorship for 20 Euro (=22$) a month
– supports more than 1200 sponsored beneficiairies
– provides college scholarships to promising students
– supports families with micro enterprise grants
– funds hemophilia camps
– has an annual budget of USD 650,000
Media contacts:
Marelle Hart
Development Liaison
Save One Life – Europe
TEL +352.661861232
www.saveonelife.net